We proudly manufacture and sell HVAC products made in the USA
Vents, Ducts, Louvers, Ventilation & HVAC Components Manufacturer
About Lambro, Inc.
Founded in 1967, the Lambro company offers to both residential and commercial customers venting and duct products that are used to help improve the airflow in rooms or buildings.
With more than 50 years of experience, we design, manufacture, assemble, and distribute over 270 metal and plastic ventilation products, and HVAC components for use in mostly residential settings and some commercial buildings. However we do not manufacture the large industrial air vents you see in large factory buildings.
Our products include: wall and roof vents for dryers, bathroom and kitchen venting as well as ventilation accessories / HVAC components such as rigid ductwork, rigid elbows, pipes, spiral duct fittings, as well as laminated, semi-rigid, flexible, aluminum, vinyl (PVC) and insulated ducts, wall, roof, soffit, and under eave vents, washing machine pans, plus more.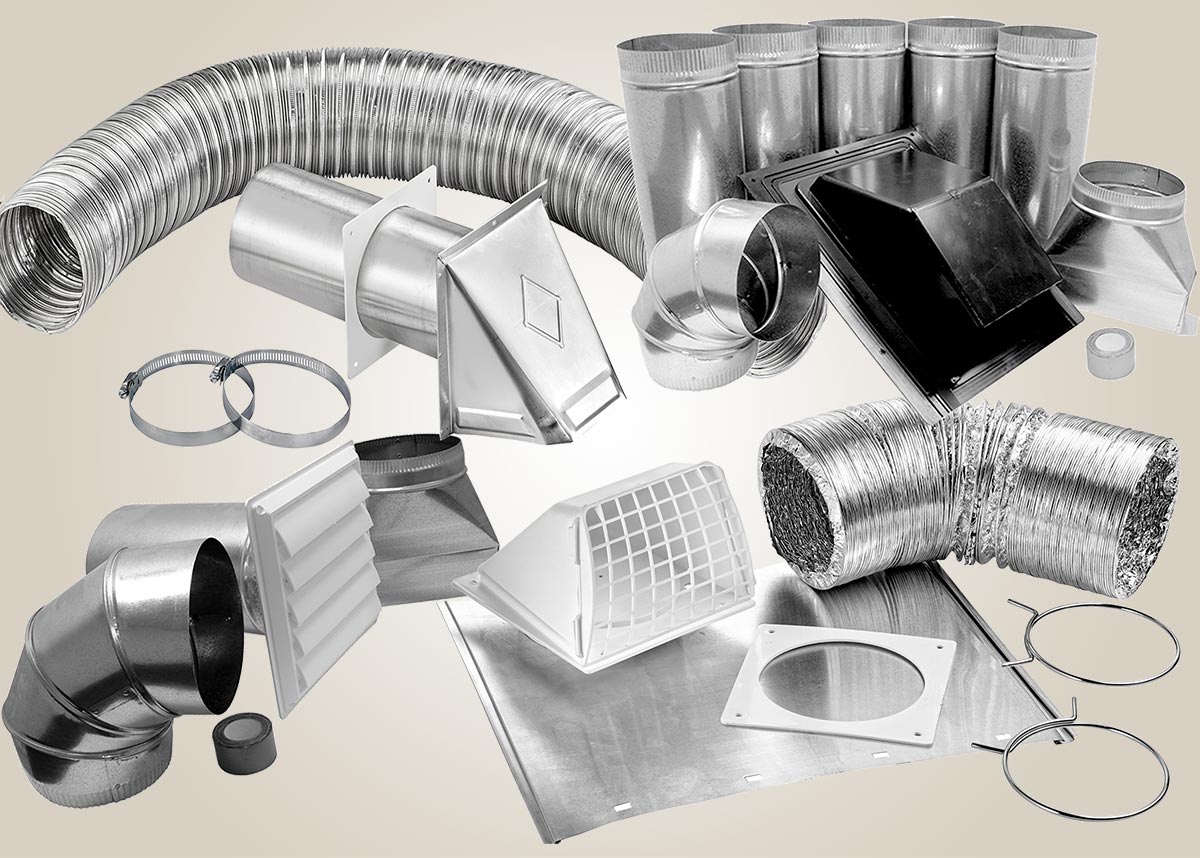 On the East Coast in Amityville, NY Lambro owns a 50,000 sq. feet production / manufacturing center where much of the fabrication for our products occurs. It is also a distribution facility serving the sourcing requirements for Lambro's US customers. We continue to grow our business by helping our dealers profitably grow theirs. We put our dealers and their customers first by satisfying their demands, listening to their concerns and acting upon their requests.
All of our products meet or exceed local and national building code standards. If you are a dealer, distributor, or contractors contact Lambro. We will be happy to help you find the right product for your needs!
INFORMATION FOR OUR DEALERS' CONSUMERS
Lambro sells its products through a network of dealers in the United States.
To find a dealer near you click here.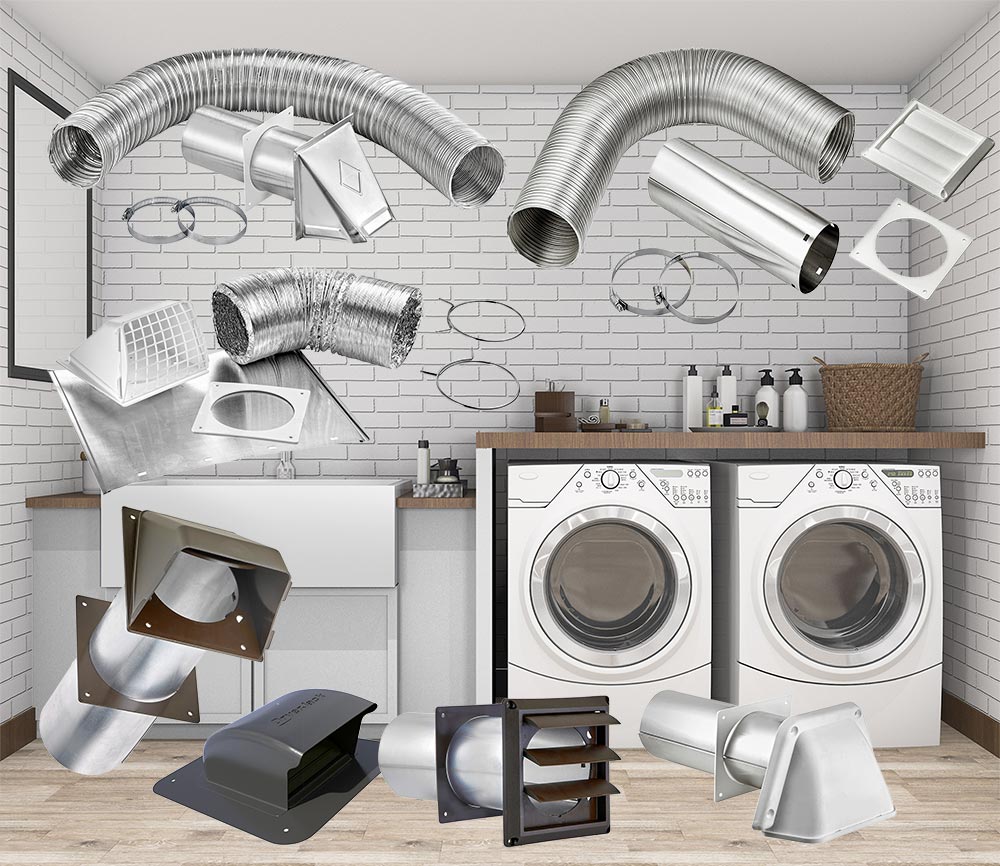 Some Information about Lambro's Ventilation Components
HVAC stands for heating, ventilation and air conditioning systems. HVAC refers to the systems that use various technologies to regulate and move heated and cooled air throughout residential, commercial buildings, and indoor stadiums.
There are three types of venting in a residential or commercial space: venting for supply air, return air, and exhaust air.
Our ventilation components are products designed to work with HVAC systems that are used to help improve the airflow in residential buildings by venting air out of kitchens, bathrooms and dryers in your laundry area.
Attic Venting
If there are not enough air vents on the roof certain sections of the attic will get too hot. If this occurs in the winter it may cause the snow on the roof to melt and then freeze again causing ice dams in the gutters.
Common HVAC components include fans, vents, wall & roof caps, ductwork and other accessories. These ventilation components are used in a variety of HVAC system applications, including industrial, commercial, and residential settings.
Our HVAC Components / Ventilation accessories can be used to help cool a room or building, remove smoke, fumes, or odors, and improve indoor air quality. Our components are available in a variety of sizes, shapes, and styles to suit the needs of any space. Need a hvac wall duct, we have you covered. You will be able to find everything you will need for vent cap systems for your bath room exhaust fan, kitchen gas or electric range hood appliance, or dryer in the laundry room.
Ducts provide a means of ventilation by enabling the transfer of air from one space to another. Ducts come in three main types: rigid, semi-rigid and flexible. The Dryer Manufacturer's Association (DMA) recommends that clothes dryers be exhausted to the outdoors through a rigid or semi-rigid metal vent pipe of not less than 0.016-inch (0.4mm) thick material with smooth interior surfaces. Because of their potential to collect lint (a potential fire hazard), overheat, and actually cause fires, vinyl ducts or flexible plastic ducts are NOT recommended to vent a clothes dryer. Unlike dryer ducts, bathroom ducts have a bit more flexibility when it comes to allowable materials. The interior surface of bathroom ducts can be smooth or ridged because metal, plastic, and aluminum flex ducts are permitted to be used. It is recommended to have insulation around bathroom ducts in the attic.
We offer HAVC ventilation ductwork components such as aluminum and galvanized snap lock pipes, aluminum and galvanized adjustable elbows, transitions and aluminum UL 181 air connectors.
As a recognized ducts manufacturer, Lambro has a variety of components for all your vent ducting needs.
Vents are also referred to as Wall Cap & Roof Caps
They can be located in the ceiling, wall, or floor of an indoor space and/or outside on the roof or wall of a building.
Louvered vents cover openings in the interior and exterior walls and are an integral part of a ventilation system. Louvered vents may have stationary blades or adjustable blades that can be used to control the amount of air that enters or leaves a space.
Lambro's Wall caps / Roof caps / Vent caps / are one of the most convenient ways to hide the termination holes from exhaust systems in exterior walls or for kitchens, dryers, and bathrooms ventilation systems. A vent cap may or may not have a mesh vent cover or screen for protection from birds and other critters.
You will find Lambro listed under roof vent manufacturers on such sites as Thomasnet.com that has served as North America's number one industrial sourcing platform, marketing powerhouse, and up to date industry news.
Our Wall / roof caps are designed with opening/closing dampers to prevent outside elements from entering the vent. Some wall caps/ vents have removable screens. It is important to regularly clean out vents, ducts, and louvers to stop an accumulation of dust and dirt.
Vents, ducts, and louvers should be cleaned on a regular basis to prevent build-up of dust, lint, and debris.
Lambro offers several vents kits for walls or roofs making shopping easier by including all the necessary parts for a complete ventilation system. With our kits there is no need to separately select a duct, vent, clamps, and trim plate.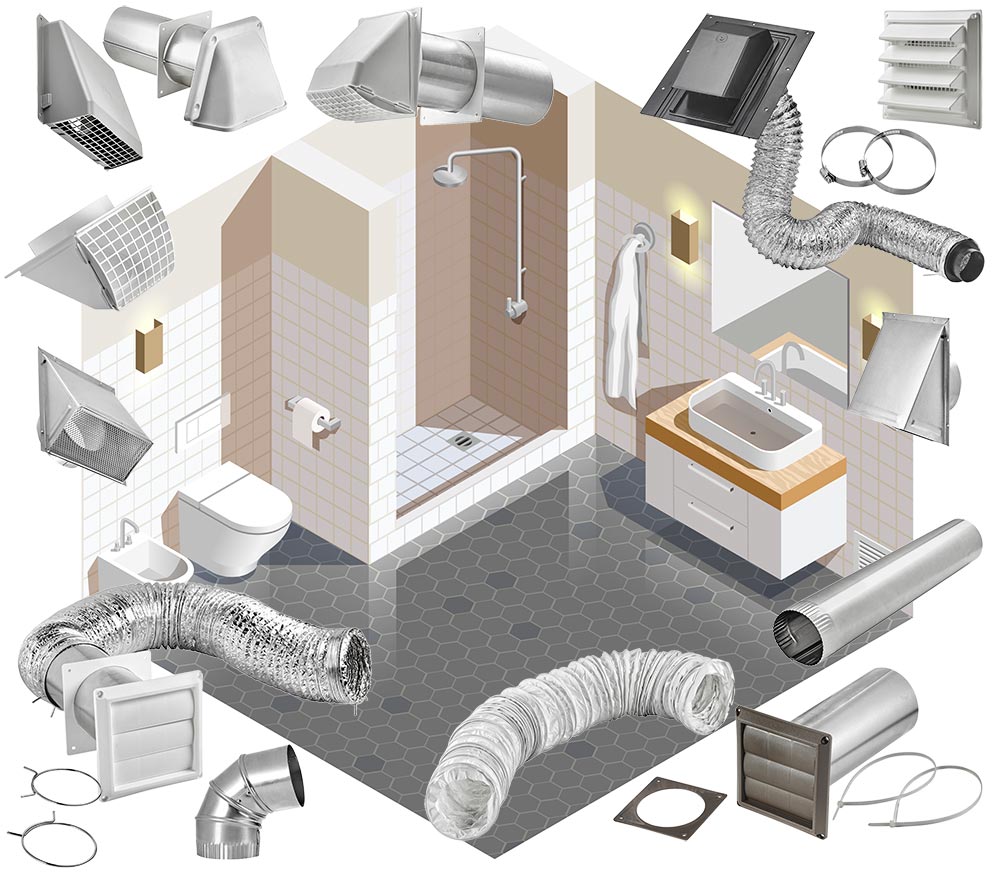 Bathroom Venting
You need better circulation / ventilation in a bathroom if there is:
· Mold growth or mildew on bathroom walls and ceilings is unhealthy
· Bathroom window trim paint is damaged and peeling
· Mold growth and stains found on the roof sheathing in attics or roof cavities over bathrooms
· Frost forming in the attic over the bathroom area on the roof's underside during freezing weather can be potentially unsafe, particularly if large icicles form.
Although an exhaust fan in the bathrooms is a must in new homes, if you live in an older rental, condo or coop apartment that has not been renovated, it is not required. Most folks will just open windows for ventilation. However, this option is certainly not convenient in the colder weather months.
When it comes to bathroom fan duct installation, one of the most important things is to make sure that the ductwork is properly sealed and insulated. This will help to prevent moisture, water damage, and mold buildup.
Do not vent your bathroom fan into the attic space. Build up of moisture in the attic can eventually cause structure damage to your house.
Professionals recommend that no matter which option is chosen to vent a bathroom exhaust fan, make sure to insulate the duct, have air-tight connections between the duct, fan and termination pipes, and keep the length of the venting pipe (duct) as short as possible.
Note: Since both a bathroom or dryer vent is exhausting moist air they can NOT be vented into a soffit per building codes.
In many cases, a professional is employed to install a ventilation system for a bathroom, kitchen or laundry room, although there are many do-it-yourselfers who also have the skill set to accomplish the project whether it is for a replacement of an existing duct or vent or installing a new ventilation system during construction or a renovation. An assortment of merchants, such as big box stores, home improvement stores, online vendors, and hardware stores, offer Lambro HVAC components.
Ventilation accessories or the HVAC components which Lambro offers include a variety of insulated and non-insulated ducts, different lengths of flexible white vinyl ducts and flexible semi-rigid aluminum ducts, air connectors, snap-lock pipes, vents (eave vents/ air intake louver vents or grills / hood vents), vent guards, nylon clamps, gear clamps, connectors, wall / roof caps, exterior vent covers, roof dryer vents, exterior vent guards, as well as wall and roof kits. Our product line is comprehensive and extensive and their durability is well known.
Some examples that are more specific:
– Aluminum adjustable connectors ranging in diameter from 3" , 4", 5", 6" 7" to 8" which will connect two lengths of ducts together using clamps.
– Clamps in different designs: adjustable nylon clamps which are easy to use and lock quickly and securely around flexible duct, screw-type clamps that create a tight seal by screwing the two halves of the clamp together, metal gear worm clamps in different diameters ranging from 3" to 8", and spring-type clamps that compress the two halves of the clamp together to create a tight seal.
– Wall or Roof caps with opening/closing dampers that prevent outside elements from entering the vent. They are available in a variety of shapes and diameters in plastic (grey, white, black or brown), and aluminum.
The cap's damper is spring loaded to keep it closed when not in use preventing an unwanted draft. Many have screens preventing birds from nesting inside of vent. All have an UV inhibitor to help prevent the premature fading of vent due to the sun.
· The cap's damper is spring loaded to keep it closed when not in use.
· Many have screens preventing birds from nesting inside of vent
· All have an UV inhibitor to help prevent the premature fading of vent
– Semi-rigid Flexible Aluminum Duct is ideal for applications where building codes require use of all aluminum duct. Our ducts are totally non-combustible with a maximum operating temperature of 400°F. They are available in different diameters and lengths such as our: 6″ x 25′ Flexible Semi-Rigid Aluminum Duct and 7″ x 8′ Flexible Semi-Rigid Aluminum Duct.
– Flexible duct consists of wire coils with a covering that's typically made from vinyl plastic which is flexible, making it very helpful when working in tight areas. However, vinyl plastic ducting should not to be used for high temperature venting applications. See Lambro's 4″ x 8′ Flexible White Vinyl Duct which is not to be used for high temperature venting applications or our 4″ x 50′ LamaFlex UL 181 Class 1 Air Connector that has a maximum operating temperature of 250°F.
– Rectangular 3 1/4″ x 10″ Duct is equivalent to a 6″ round duct. Lambro offers this type of duct in aluminum along with 3 1/4″ x 10″ aluminum or galvanized elbows and 5" extension for compatible wall caps in white or grey plastic.
– Snap Lock Pipe 6" – 8" diameters / 24" and 60" lengths / aluminum allows for better flow and cleaning when necessary. Round ductwork is lighter and can be used for longer runs with fewer joints to restrict airflow, making it overall, more efficient and easier to install.
– Kits are a convenient way to have all the necessary parts that are required for a consumer or contractor to easily install a venting system Lambro offers a number of different kits from their shingle roof installation or a 7″ Wall Vent Kit to vent over-the-range microwaves to numerous bathroom vent kits and dryer kits.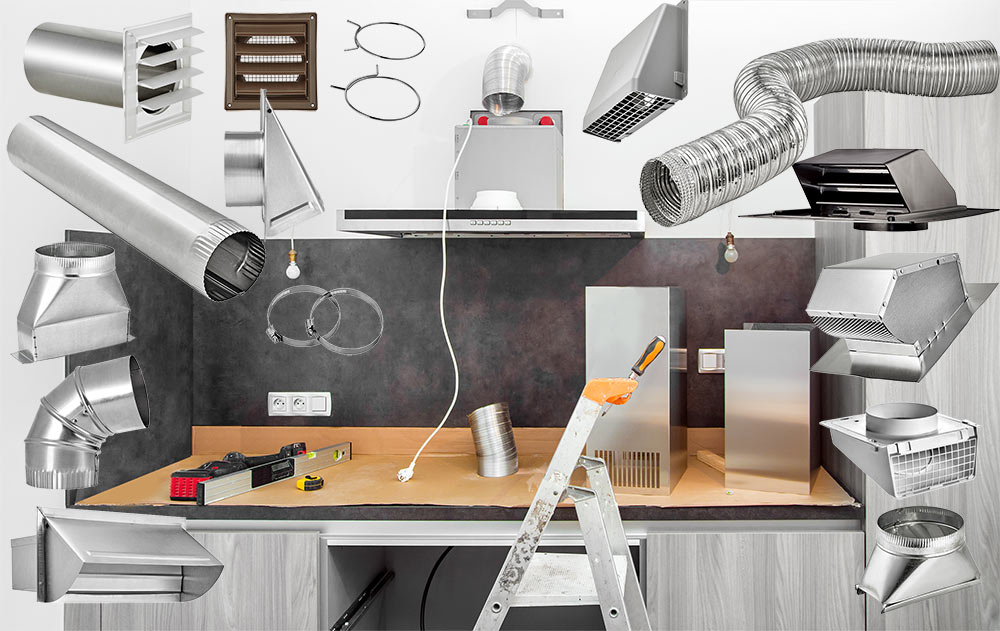 There are a variety of materials that can be used for ventilation components, depending on the application. Some common materials include aluminum, stainless steel, galvanized steel, vinyl, plastic, and polypropylene. Each material has its own advantages and disadvantages that should be considered when selecting the appropriate material for a particular application. Aluminum is a lightweight material that is resistant to corrosion. It is commonly used in applications where weight is a concern, such as in portable ventilation systems. Plastic components are injection molded. Our product pages describe the material, dimensions, and other specifications.
Many of our pages will also list the pack quantity and package type / weight for the wholesalers and retailers who buy from us.
We do not sell directly to the individual consumer from this site.

If you are doing your own venting installation, be aware that there are installation requirements for vents, ducts and louvers depending on the type of product being installed, as well as where you live. Many Lambro products have both spec sheets, installation instructions, and in some cases videos. However, homeowners should also know what is allowed via building codes in their town or city.
Some believe that it is better to leave the home HVAC installment and repairs to a professional who can do it safely, correctly, quickly and in the long run, save the homeowner money and hassles. But if you have the skill set and are aware of your building codes, there is no reason why a homeowner can't do their own installation.
Just be aware that many manufacturer's warranties require installation by a certified installer. If you use non-standard parts or perform installations yourself, your warranty may be voided. And you may end up paying more in the event that something goes wrong. Bottom line: read the small print and educate yourself.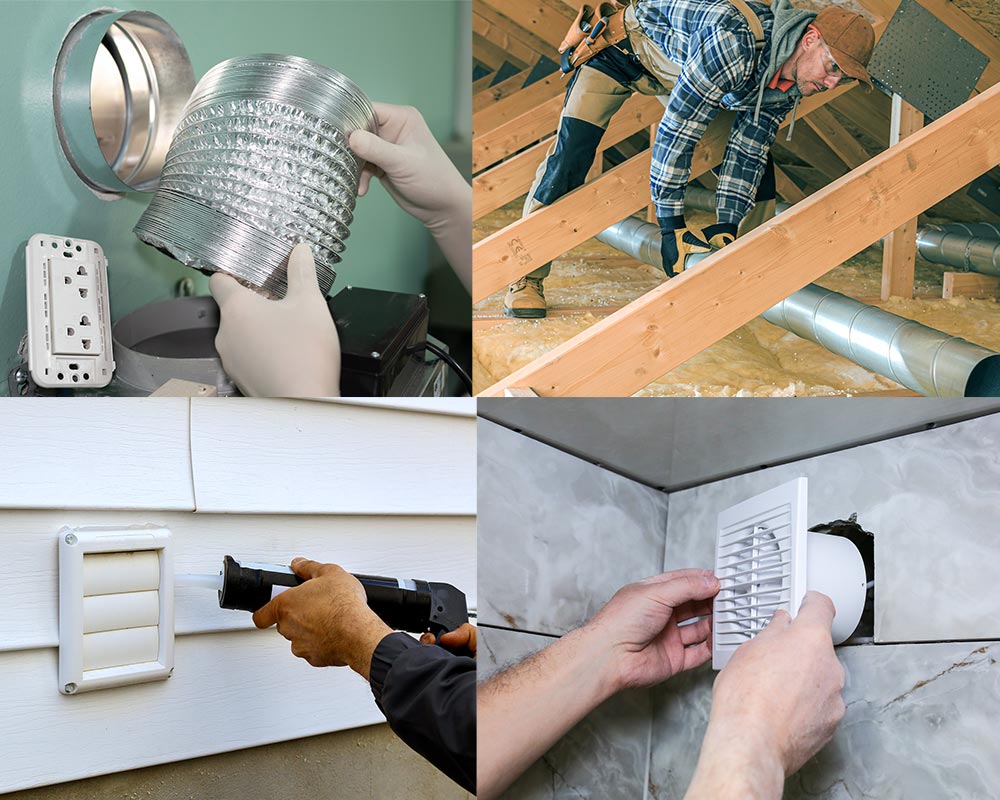 A ventilation system requires some general maintenance. We suggest that you:
1. Keep vents, ducts and louvers clean. This means regularly cleaning the inside and outside of the vents, ducts and louvers. Lint buildup is common and needs to be checked to prevent fires. A dirty vent will lower the efficiency of the clothes dryer. Lint removal from your dryer's filter or screen after a load of clothing has dried is highly recommended. Likewise check your dryer's external wall or roof vent at least once a year.
2. Maintain the drain pans under your washing machine. A washer pan can catch any leaks due to washing machine overflow or hose failure, or any drips from where the hoses connect to the washing machine.
3. Check your filters and replace the ventilation air filters regularly
If your home HVAC system is more complex, having a professional do a yearly maintenance inspection will save money in the long run by catching problems early or simply preventing them.
Large / complex HVAC systems in commercial buildings or large residential buildings need professional maintenance. There are many companies that offer customized preventative maintenance plans in which a qualified technician will inspect and evaluate the heating and cooling equipment, make needed adjustments, and identify any failures or essential repairs.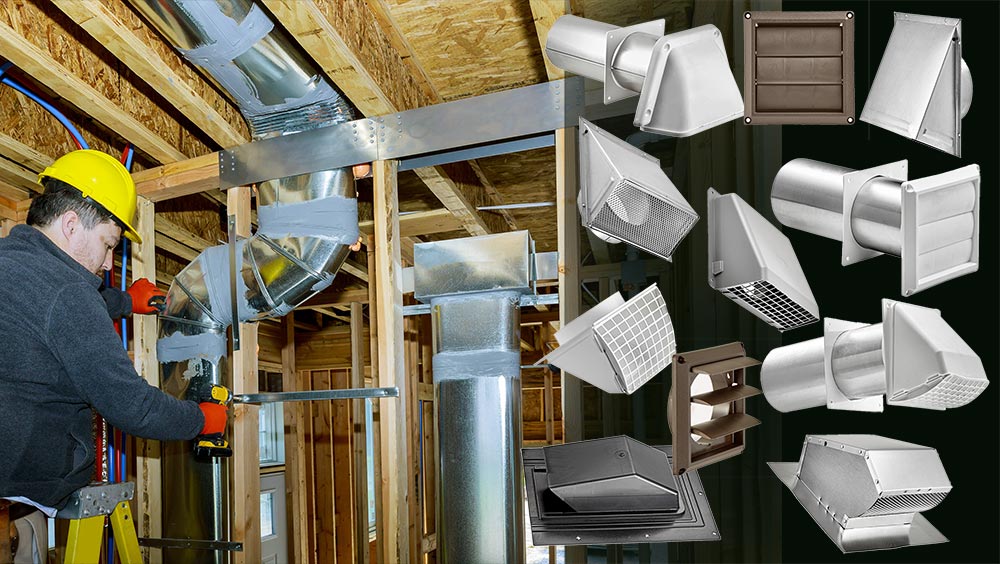 The benefits of preventative maintenance for both residential and larger buildings include:
1. Reduced energy use / energy savings
2. Early identification of potential problems
3. Fewer emergency service repair services
4. Equipment operating life extended
5. Improved operating efficiency
6. Less frequent system downtime
7. Decreased interruptions to building operations
8. Increased comfort
9. Reduced occupant complaints
10. Enhanced safety
11. Mitigate risks such as fires from lint build up from a dryer
Even with proper maintenance problems can arise. Some of the most common problems with vents and ducts are:
· Blocked vents
· Noisy vents usually indicates a lack of return air.
· Return vents are blocked or shut off
· Poorly sealed ducts
· Clogged or blocked filters
· Blocked or leaky ducts
· Undersized ducts can become easily clogged.
· Dust that gets past filters can accumulate in ducts causing blockage
· Rodents, birds or insects building nests in HVAC ducts.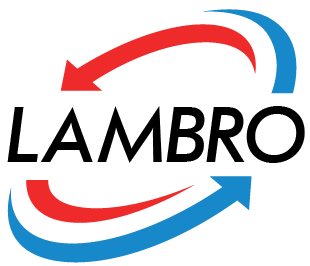 With products made with of high quality materials, proper installation, and thoughtful maintenance your ventilation systems with their ducts and roof/ wall caps can last for many years. However, they will eventually need to be replaced due to wear and tear. The lifespan of vents, ducts and louvers will also be affected by the environment in which they are installed, as well as the amount of use they receive. In most cases it is better to have an experienced professionally replace HVAC components. Attempting to install them yourself without the necessary knowledge can lead to broken components, improper installations, lower performance and / or malfunctioning systems in more complicated HVAC system.
Most part manufacturers don't sell parts directly to consumers. Lambro products are available to consumers via big box stores, your local hardware stores and online at such ecommerce stores as Amazon.
Lambro sells its products through a network of dealers in the United States. Individuals will find their needed supplies with Lambro ventilation accessories / HVAC components online at many e-commerce sites as well as well as at big box stores, and brick & mortar hardware stores. Lambro will help find you the right dealer closest to you.
Click on Where to Buy for more information on where to buy our HVAC products.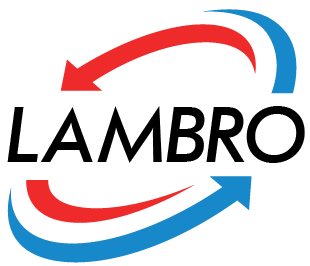 Lambro Industries, Inc. Appreciates Your Business!