Dryer Vent Clamps and Connectors
Lambro is a leading manufacturer of dryer vent clamps and connectors. Our products are made from high-quality materials and backed by a limited warranty.
Lambro sells its products through a network of dealers, distributors, wholesalers and retailers in the United States.
All of our products meet or exceed local and national building codes. If you are a dealer or contractor contact Lambro. We will be happy to help you find the right product for your dryer vent clamps needs!
If you are a consumer and need a new dryer vent kit, contact your local big box or hardware store today for Lambro dryer vent kits!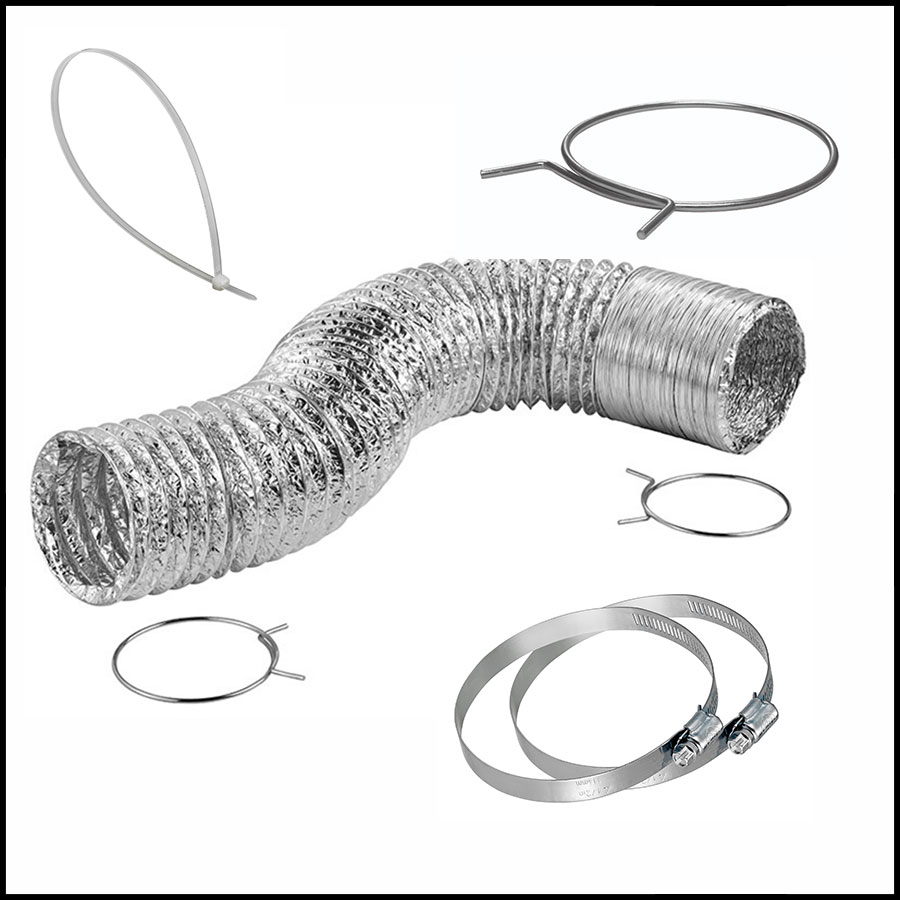 Our product pages for dryer vent clamps and connectors include Installation instructions. Some products pages will have spec sheets and an installation video as well.
Dryer Vent Clamps
A dryer vent clamp helps to create a tight seal so that air cannot escape from the connection between a dryer vent and the exhaust duct.
Sealing your dryer vent is an important part of maintaining your clothes dryer. By using a dryer clamp, you help to ensure that your clothes dry quickly and safely. Dryer vent clamps will improve the efficiency of your clothes dryer and keep your home safer. Dryer vent clamps are easy to install and do not require any special tools or equipment. They are relatively inexpensive, making them a great option for budget-conscious homeowners.
There are two main types of dryer vent clamps -a screw-type and a spring-type. Lambro offers both types as well as offering an adjustable nylon clamp which are easy to use and lock quickly and securely around flexible duct. Wholesale pack quantity is 50. Retail packaging is a polybag with 2 Adjustable Nylon Clamps.
SCREW TYPE CLAMP
Screw-type clamps are the most common type of dryer vent clamp. You create a tight seal by screwing the two halves of the clamp together.
Metal Gear Worm Clamps
Our metal gear worm clamps are available in a number of different diameters ranging from 3" to 8". They are made of zinc plated steel with a unique design allowing for easy-to-tighten convenience. Whole sale pack quantities range from 24 for (2) – 4″ Metal Worm Gear Clamps (LINK: https://www.lambro.net/4-galvanized-worm-gear-clamps/) with their retail packaging, a polybag, wholesale pack quantity for the 5" | 6" | 7″ | 8" Metal Worm Gear Clamps is 12 with a retail bulk pack. The wholesale pack for the popular 4″ Metal Worm Gear Clamp contains 500, while its retail is bulk pack. The 3″ Metal Worm Gear Clamp wholesale pack contains 50, while for retail it is bulk pack.
To use a screw-type clamp:
1. Align the two halves of the clamp over the dryer vent and exhaust duct.
2. Insert the screws into the holes on the side of the clamp.
3. Tighten the screws until the two halves are securely attached
4. Do not overtighten the screws, since it can damage the dryer vent or exhaust duct.
SPRING TENSION TYPE CLAMP
Spring-type clamps compress the two halves of the clamp together to create a tight seal. Lambro's metal tension clamps with their 4″ maximum diameter are designed with an easy-to-use pressure mechanism for use in various applications without the need for any tools on non-rigid flexible ducts.
Dryer Vent Connectors
Lambro offers galvanized connectors ranging in diameter from 3" , 4", 5", 6" 7" to 8" which will connect two lengths of ducts together using clamps. Spec sheets and installation instructions and Installation videos are found on our connectors product pages.
We also offer an aluminum version in the popular diameter size of 4". This product is ideal for applications where building codes require use of all aluminum ducts and connectors.
Although galvanized steel is much stronger than aluminum making it desirable for projects that require more strength and durability, its strength isn't ideal for all ductwork.
Aluminum is sometimes preferred because of its ease of installation, lighter weight, and ability to withstand high levels of heat making aluminum connectors perfect for household appliances such as dryers as well as HVAC equipment.
We make it easy for you by offering a Galvanized Duct Extension Connector kit with a 4″ Galvanized Connector and two 4″ Metal Worm Gear Clamps. The wholesale pack contains 12, while the product comes in a polybag for retail purchases.