Bathroom Ducts
If you're looking for high-quality ducts and bathroom vent kits that include vinyl, Lamaflex, or semi rigid ducts which are needed for the installation of a bathroom/shower exhaust fan look no further than Lambro. Our products are perfect for installing bathroom exhaust fans, and our wide selection means that you're sure to find the right product for your needs. We also offer a variety of other ventilation accessories, making our products your one-stop shop for all your bathroom ventilation needs.
Lambro is a leading manufacturer of ventilation ducts. Our products are made from high-quality materials and backed by a limited warranty.
Lambro sells its products through a network of dealers, distributors, wholesalers and retailers in the United States.
All of our bathroom ventilation duct products meet or exceed local and national building codes. If you are a dealer or contractor contact Lambro. We will be happy to help you find the right product for your ventilation ducts needs!
If you are a consumer and need a bathroom duct for an exhaust fan installation, contact your local big box or hardware store today. Look for the Lambro brand name.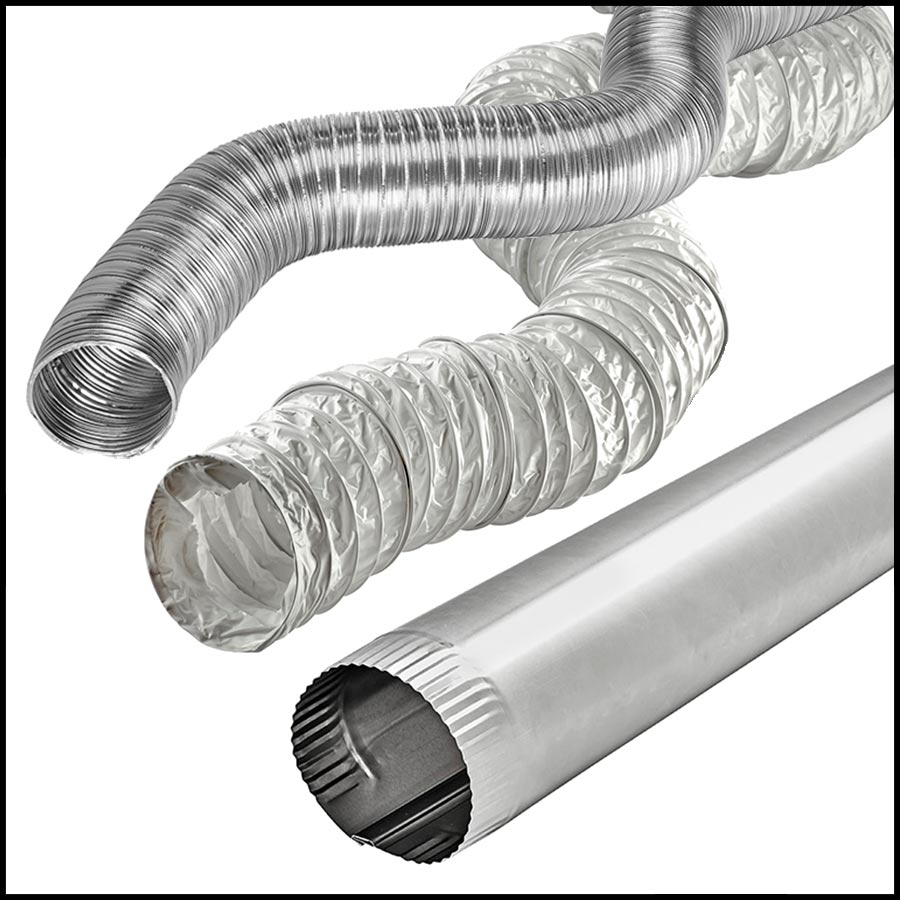 Semi rigid, flexible & rigid ducts.
Unlike dryer ducts, bathroom ducts have a bit more freedom when it comes to allowable materials. The interior surface of bathroom ducts can be smooth or ridged because metal, plastic, and aluminum flex ducts are permitted to be used. Smooth surfaces aren't as important in bathroom vents as they are for dryer ducts because bathroom fans do not exhaust flammable lint. In addition, the temperatures passing through the ducts are much lower than for dryers, making any potential obstructions less dangerous. For bathroom vents, there are no explicit length and diameter requirements in the IRC (International Residential Code). Clothes dryer ducts can be used for a bathroom / shower fan's exhaust duct. You will see dryer duct products on this page such as Lambro's 4″ X 8′ UL 2158A Clothes Dryer Laminated Transition Duct. This is a flexible laminated foil duct design which makes it easier to install.
However, not all bathroom fan ducts can be used for dryer ducts. An example is our 4″ X 8′ Flexible White Vinyl Duct with Clamps. This duct CAN NOT be used for high temperature venting applications such as dryer venting.
Be aware that according to the International Residential Code (IRC), it is illegal to combine dryer ducts with any other exhaust systems within a house. Therefore, the duct for a bathroom exhaust fan cannot be shared with a dryer ventilation system. Section M1502.2 of the IRC: Independent Exhaust Systems states: "Dryer exhaust systems shall be independent of all systems and shall convey the moisture to the outdoors."
For example, flexi duct can be used for a bathroom fan's system, but is prohibited in dryer ventilation systems, and PVC and PVC coated aluminum can be used for bathroom fan ducts, but is very dangerous to use for dryers.
Types of Bathroom Fan Ducts
The most common types ducts that can be used for a bathroom exhaust fan installation are rigid ducting, semi-rigid ducting, flexible ducting or a rigid duct and flexible duct combination. Lambro offers a selection of all these duct types.
Does your municipal prohibit the use of flexible or rigid ducts? Check the building codes where you live to avoid making a mistake that could cause problems later.
Rigid Metal Duct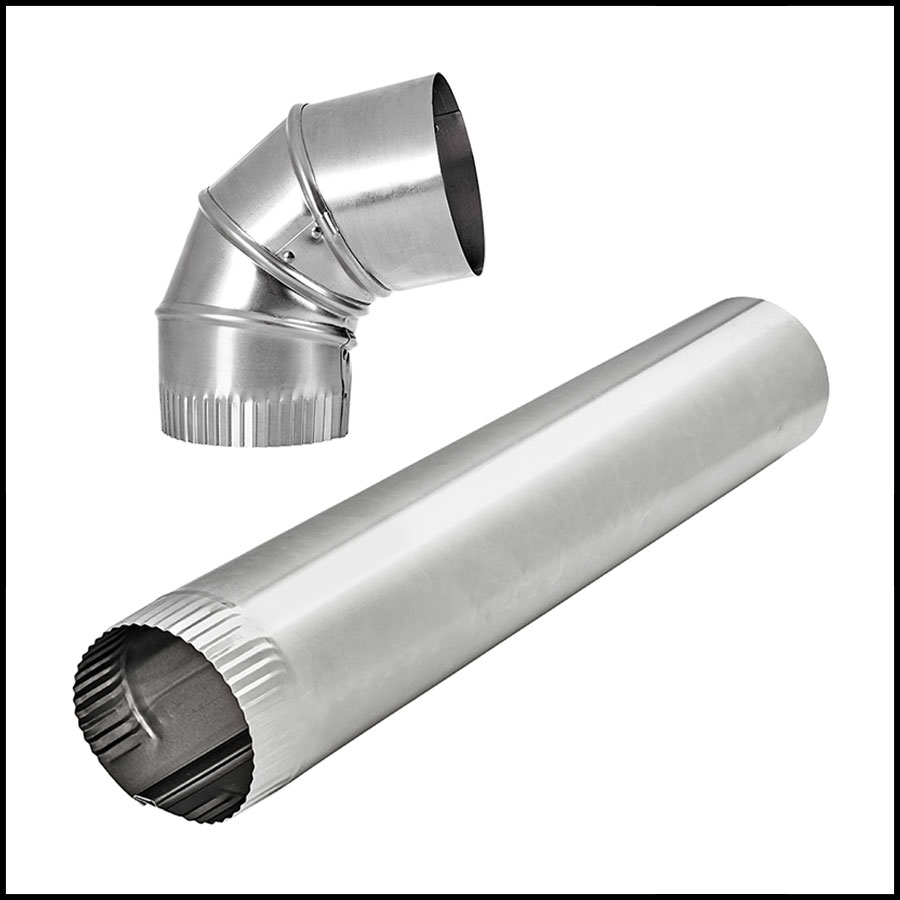 3″ Aluminum Snap-Lock Pipe – 24″ Length #228
3″ Aluminum Adjustable Elbow – 90 Degree #2300
Rigid duct is considered as the best since it is more durable and less resistive than flexible duct. Professionals consider it the best choice for a bathroom fan in terms of performance, namely venting air and moisture from the bathroom. With its smooth inner walls, rigid metal ducting reduces friction making it the most effective choice for a bathroom fan duct. Rigid ducts are low maintenance. They have a long lifespan.
Some drawbacks to consider when using rigid duct for a bathroom fan:
· It is more expensive
· It can be more difficult to install.
If you choose to use rigid ducting, consider having it professionally installed. Elbows and joins may be required to move around corners which can cause some additional friction for the air flow lessening the efficiency of the exhaust fan. Since noise from inside the home, as well as outside can be transferred by the rigid duct, a ventilation system constructed of rigid ducts tends to be noisier when compared to systems with flexible duct. Note: many professionals use flexible duct for the last few feet of the system to help eliminate the noise issue.
Lambro offers rigid ducts in both aluminum and galvanized steel snap-lock pipes with diameters ranging from 3" – 6" and in various lengths. Aluminum or galvanized steel adjustable elbows – 90 degree in diameters 3" – 6" are also available.
Aluminum Semi-Rigid Duct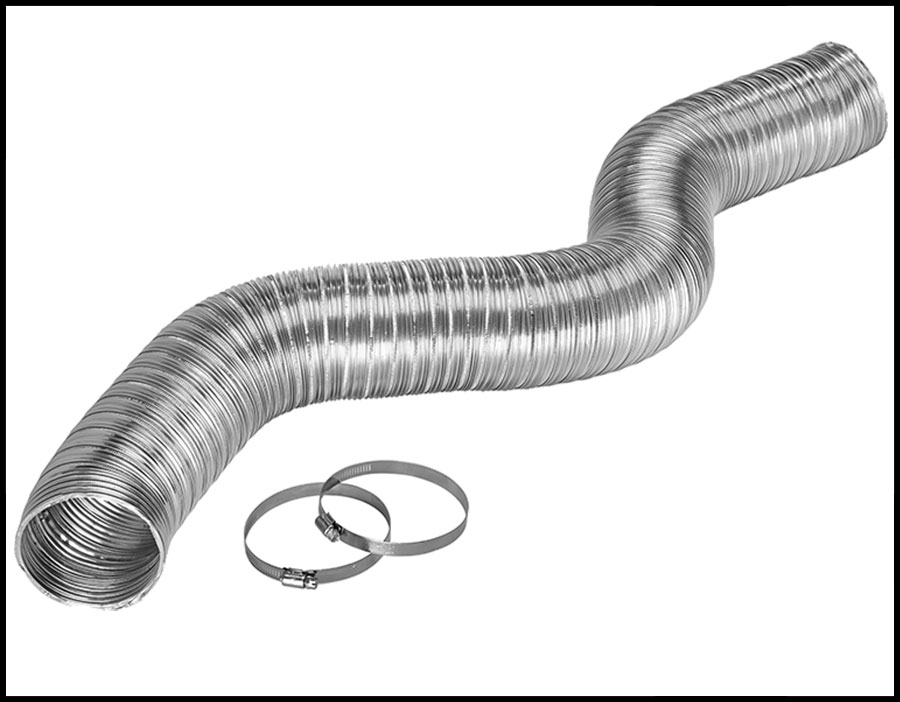 3″ X 8′ Flexible Semi-Rigid Aluminum Duct Kit #3110
Wholesale Pack Quantity: 8
Package Type: Retail Polybag
Semi-rigid is a good option for use in high-humidity areas. It is easier to install than rigid metal duct, but somewhat less durable. Our Semi-rigid aluminum ducts are ideal for applications where building codes require use of all aluminum duct.
Flexible Duct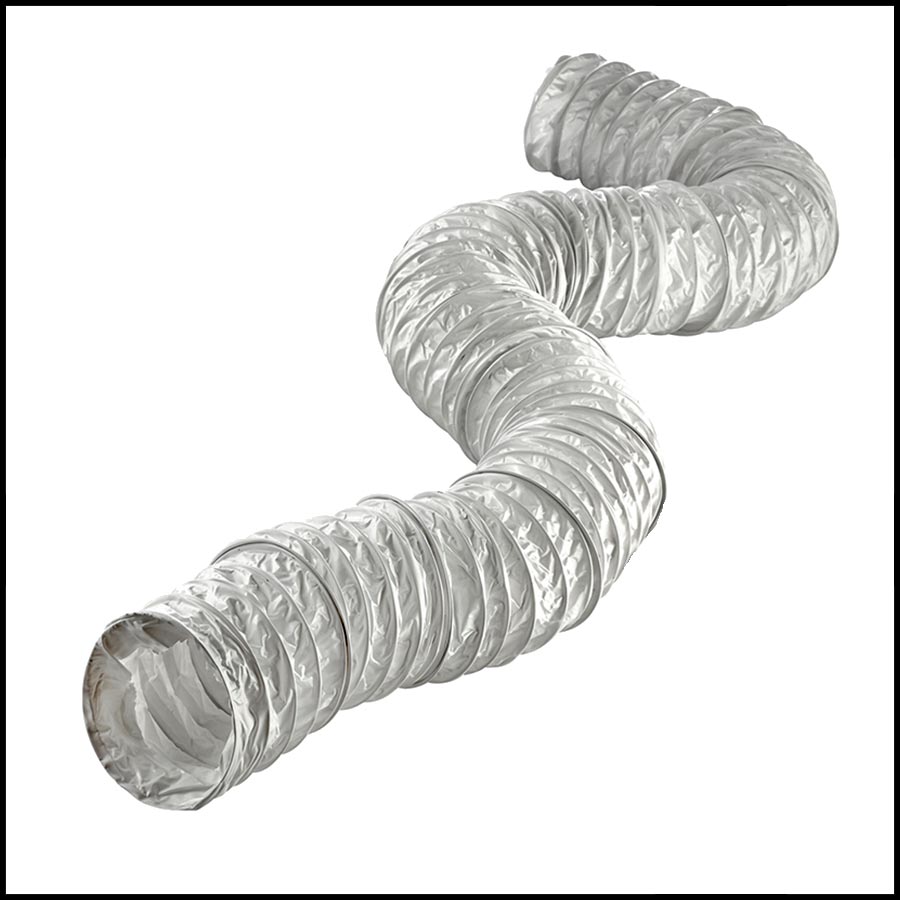 3″ X 20′ Flexible White Vinyl Duct #214
Wholesale Pack Quantity: 1
Retail Package Type: Single Pack

Flexible duct is acceptable for a bathroom exhaust fan. Approved by building codes-Chapter 15 of the International Residential Code (IRC), it is available in PVC, PVC coated aluminum, aluminum and insulated aluminum.

Flexible ducting is ideal when rigid ducting cannot be installed due to lack of space or an awkward installation. One advantage of flex ducting is its ease of installation. Another advantage is if you are on a budget, flexible duct is less expensive than rigid or semi rigid ducts.

When using a flexible duct for your bathroom fan, make sure it is well supported to prevent it from sagging which can create extra resistance to the air flow causing airflow pressure loss and a reduction in the efficiency of the duct. In addition, condensation can collect in any dips resulting in moisture buildup within the duct.

Also take into consideration:
· Cheap aluminum ducting tears very easily. Avoid it!
· Ridges on the inner walls will increased friction making it less efficient
· Flexible ducts require more maintenance /cleaning
· Not as durable as rigid or semi rigid, but somewhat less noisy

Insulation and the Bathroom Fan Duct

Professionals recommend that a bathroom fan duct be insulted. An insulated air duct keeps moisture from condensing inside the duct and preventing water from collecting in low spots, which can ultimately damage the duct.

Whole sale Pack Quantity:1 / Retail Pacakge Type: Polybag

4″ x 25′ Insulated Duct #2574
Whole sale Pack Quantity:1 / Retail Package Type: Polybag
6″ X 25′ Insulated Duct #2576
Whole sale Pack Quantity:1 / Retail Package Type: Polybag

 

An uninsulated duct will:
· Cause the vented moist air to condense in the duct rather than being discharged to the outside
· Cause dripping from the fan due to the condensation. The dripping over a period of time could result in stains around the fan or corrosion.
· Cause heat loss via the exhaust fan.

Although installing insulation around a bathroom fan duct is not a difficult task, make sure the duct is fully enclosed and all seams are well sealed. If you are not confident in your ability to do the job properly, hire a professional.

4" Bathroom Venting Kits with Vinyl, Lamaflex, or Semi Rigid Ducts.

4″ X 5′ Vinyl Duct Preferred Hood Vent Kit #205W
4″ X 8′ LamaFlex Duct Louvered Vent Kit #407B
4″ X 8′ Flexible Semi-Rigid Aluminum Duct Preferred Hood Vent – Kit #316W

Lambro offers a number of different kits for bathroom & shower fan installations that will expel all of that bathroom moisture to the exterior wall or out through the roof.

These 4" diameter kits are a convenient way to have all the necessary parts that are required for a consumer or contractor to easily install a venting system for a bathroom fan. Installation instructions and spec sheets are included on most kits product pages.

 

Typical bathroom / shower venting kits features include:
· A hood or louvered vent with rigid tail pipe
· UV inhibitor used to help prevent the premature fading of vent
· Trim Plate
· Duct- vinyl or Lamaflex (aluminum laminated foil) with vents for exterior wall or roof
· Duct- semi rigid with vents for exterior wall
· Opening/closing damper to prevent outside elements from entering the vent
· Clamps- adjustable nylon, metal worm gear

 

Most of our bathroom fan duct products include spec sheets and installation instructions on their pages. Some product pages have installation videos as well.
When choosing a duct for your bathroom exhaust fan installation, consider your needs and check any local building codes carefully to make the best decision for your home. The correct installation and proper maintenance of bathroom fan ducts is essential to ensure that the fan functions properly and no damage is caused to your home, apartment, or commercial building.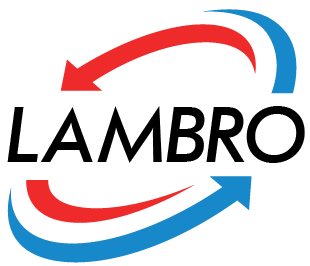 Distributors, wholesalers and retailers:
No matter what type of ductwork and vent you choose for your consumers, Lambro offer a wide variety of bathroom vent and duct products, including exhaust vents, intake vents, transition fittings, wall caps and more.
We're the experts you can trust for all your ventilation needs. Give us a call at (800) 645-2860 or fill out our Contact Us form.