Bathroom Vent Kits
Lambro is a leading manufacturer of bathroom vent kits. Our products are made from high-quality materials and backed by a limited warranty.
Lambro sells its products through a network of dealers, distributors, wholesalers and retailers in the United States.
All of our products meet or exceed local and national building codes. If you are a dealer or contractor contact Lambro. We will be happy to help you find the right kit product for your bathroom / shower venting needs!
If you are a consumer and want a bathroom vent kit, contact your local big box or hardware store today for Lambro bathroom / shower vent kits!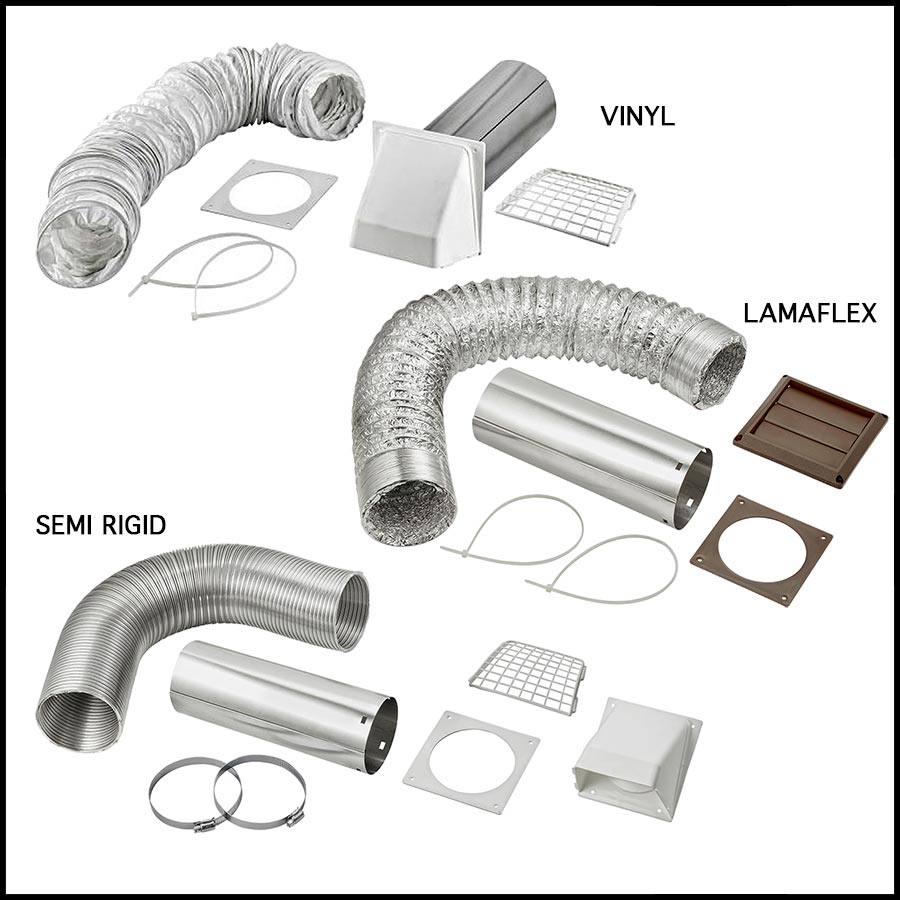 Lambro offers a number of different kits for bathroom and shower venting installations. Without proper bathroom ventilation, moisture from showers and baths can do serious damage to bathroom painted walls, drywall, wallpaper, window coverings, and cabinetry as well as cause mold issues. An efficient bathroom exhaust fan keeps the bathroom dry and odor-free. Although there are fan models that mount in the ceiling, a wall or the window, but all must vent the moist air to the outside.
Kits are a convenient way to have all the necessary parts that are required for a consumer or contractor to easily install a venting system for a bathroom. The exterior vents may be made from aluminum or plastic. Many of our kits have galvanized tension clamps along with the more common ubiquitous, adjustable nylon clamps.
Installation instructions are include on each kit's product page. Some products have spec sheets and installation videos as well.
Typical kit features include:
· Opening/closing damper prevents outside elements from entering the vent
· Removable screen
· Flexible laminated foil duct design with Lamaflex for easier installation or white vinyl duct
· UV inhibitor used to help prevent the premature fading of outside exhaust vent
· Include either hood vents or louvered vents with tail pipe, a trim plate and some type of clamp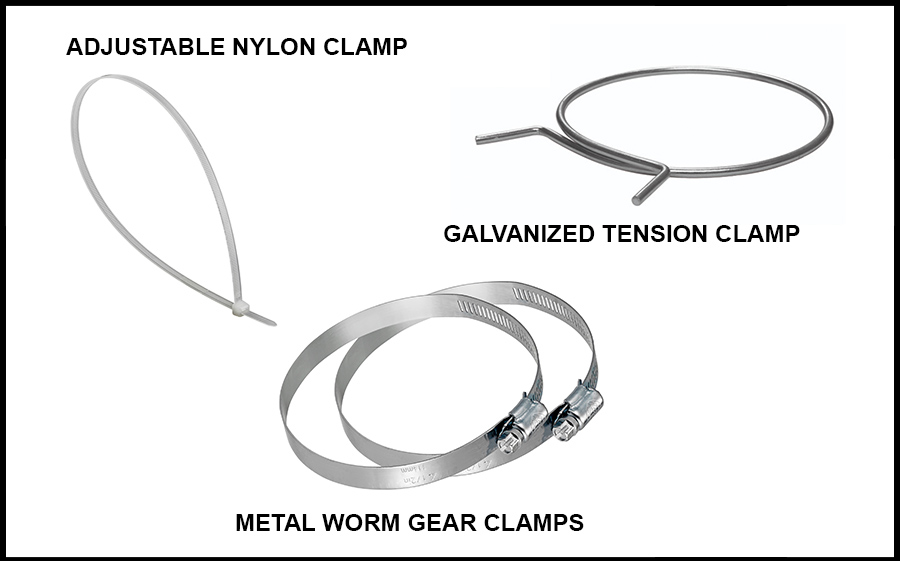 Exhaust Vent Kits for Bathroom Fans
Lambro offers a variety of bathroom ventilation vents kits in vinyl and aluminum making your shopping easier by including all the necessary parts for a complete bathroom ventilation system. No need to separately select a duct, vent, clamps, connector (if necessary), and trim plate. Our kits are designed primarily for venting directly through an exterior wall, although we offer two kits that have vents specifically for roof venting. They are to be used only for shingle roof installations.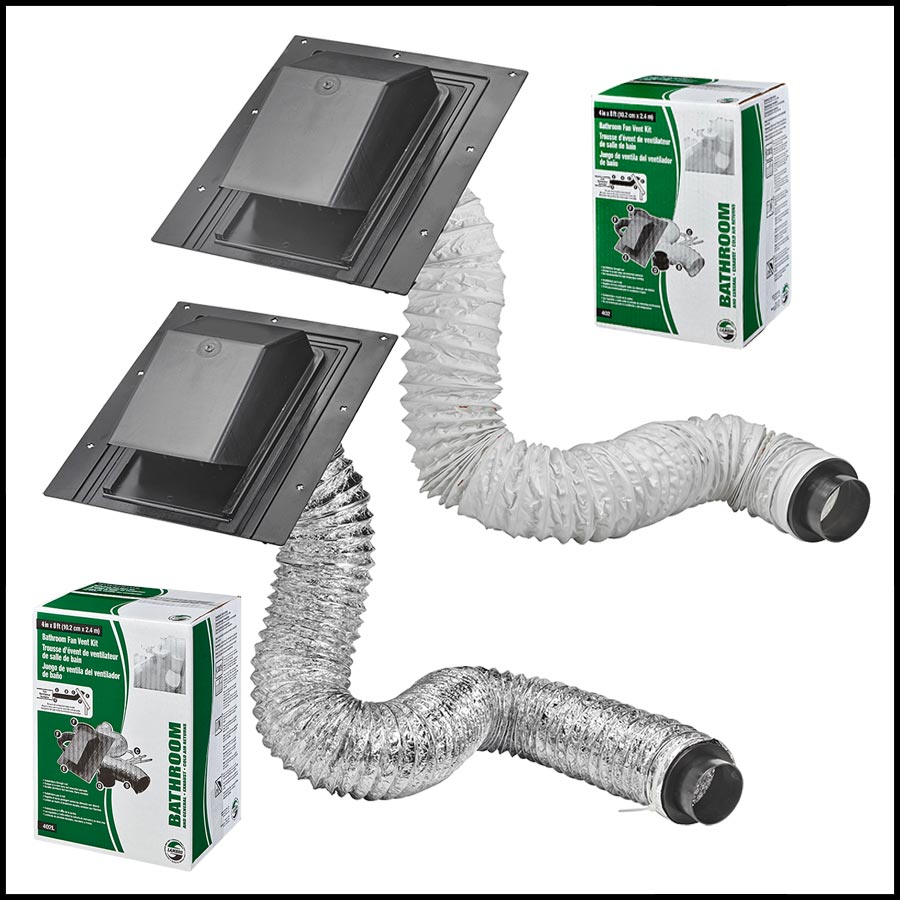 4″ X 8′ Vinyl Roof Duct Kit for a bathroom fan installation
4″ X 8′ LamaFlex Duct Roof Kit for a bathroom fan installation
Unlike dryer ducts, bathroom ducts kits interior surfaces of bathroom ducts can be ridged or smooth because metal, plastic, and aluminum flex ducts are permitted for bathroom venting. Because bathroom fans do not exhaust flammable lint, smooth surfaces aren't not required for the bathroom ducts as they are for dryer ducts. In addition, the temperatures passing through the bathroom duct is much lower than for dryers, making any potential obstructions less dangerous. Pooling of condensation is more of a concern. For bathroom vents, there are no explicit length and diameter requirements in the IRC (International Residential Code). FYI: Clothes dryer ducts can be used for a bathroom / shower fan's exhaust duct, but not necessarily vice versa.
Kits with plastic louvered vents are available in white or brown as are hood vent designs. The diameter of the ducts in these kits is 4", although the lengths of the actual ducts are either 5' or 8' long.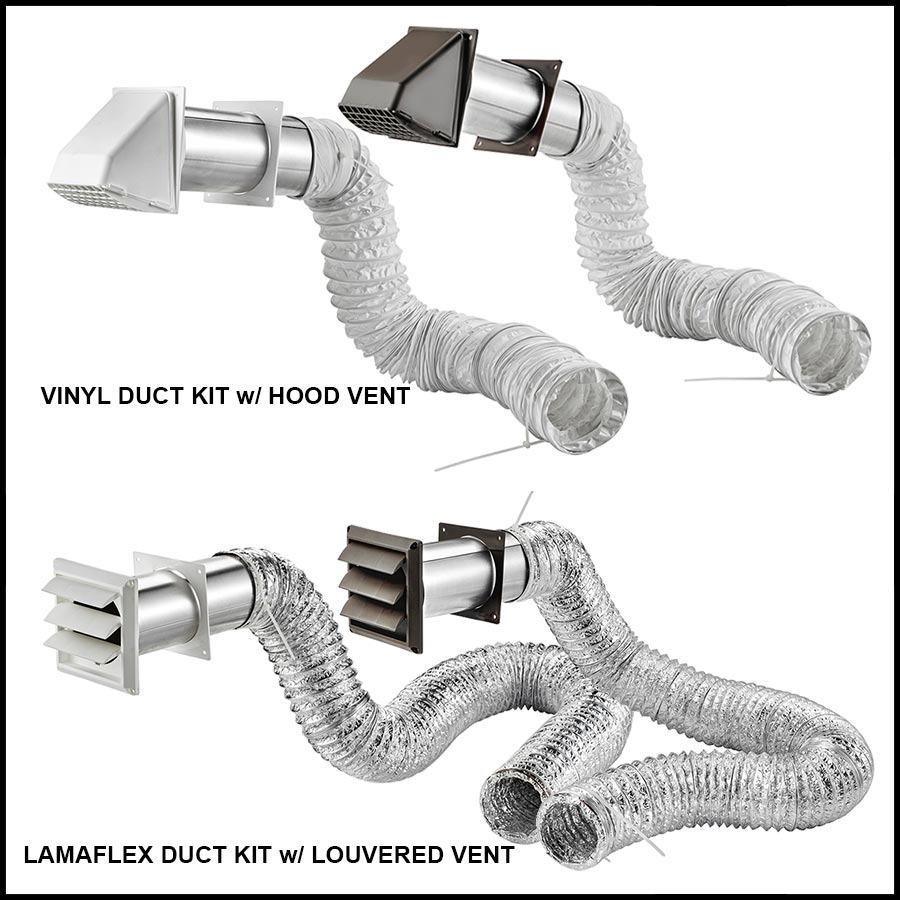 4″ X 5′ Vinyl Duct Preferred Hood Vent Kit – Item #205B in Brown
4″ X 5′ Vinyl Duct Preferred Hood Vent Kit – Item #205W
4″ X 5′ LamaFlex Duct Louvered Vent Kit in White
4″ X 8′ LamaFlex Duct Louvered Vent Kit – Item #407B in Brown
Connector and Transition Duct Kits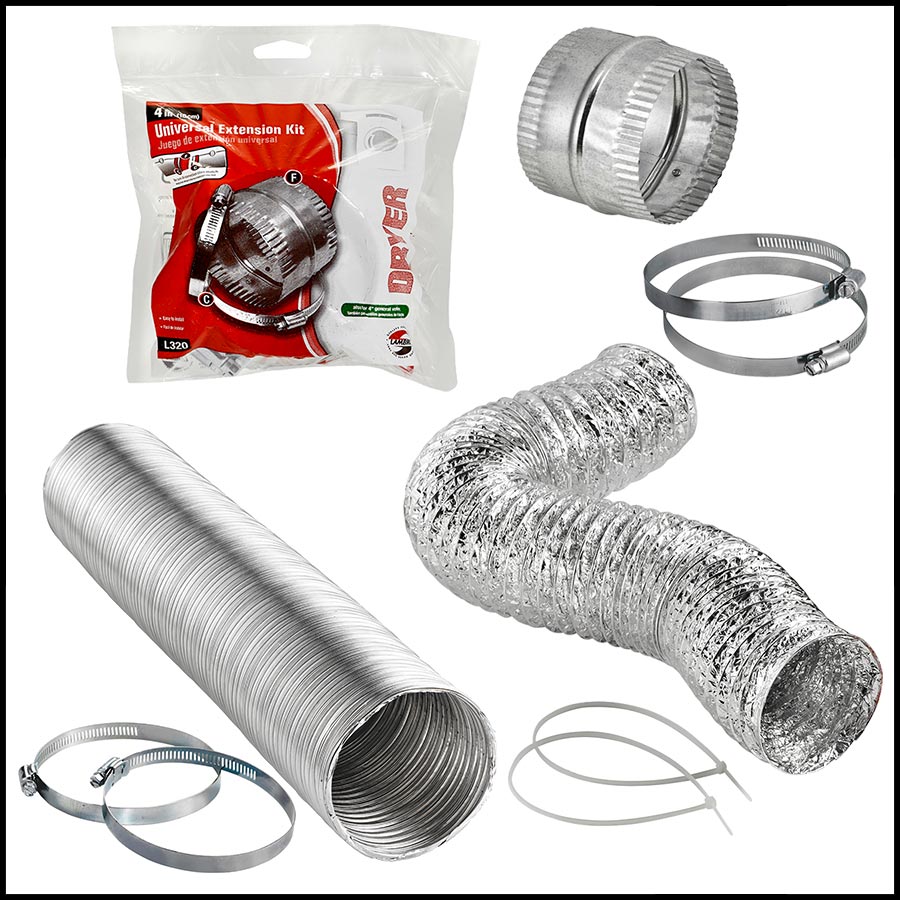 We also have Connector and Transition duct kits.
· Galvanized Duct Extension Connector Kit
This kit allows you to Connect 2 lengths of non-semi-rigid flexible ducts.
Pack Quantity 12 | Retail Package Type: Polybag
· 4″ X 5′ LamaFlex Air Connector Kit
· 4″ X 8′ LamaFlex Air Connector Kit
These two flexible aluminum/aluminum foil LamaFlex ducts are ideal for applications where building codes require use of all aluminum duct. The kit includes two Adjustable Nylon Clamps.
Pack Quantity: 12 | Retail Package Type: Box
· 4″ X 8′ UL 2158A Semi-Rigid Transition Duct Kit
Although the UL 2158A duct in this kit is highly recommended for clothes dryer venting installations, it will also work well with bathroom ventilation installations. The flexible semi-rigid aluminum triple-lock design offers more durability. Two 4″ Metal Worm Gear Clamps are included in the kit.
Pack Quantity: 9 | Retail Package Type: Polybag
With the variety of bathroom exhaust vents and bathroom vents kits offered by Lambro, distributors, wholesalers and retailers are sure to find the best options for their customers' needs.
Give us a call at (800) 645-2860 or fill out our Contact Us form.