Lambro HVAC components : Ducts, Ductwork and Vents
HVAC is an acronym for a heating, ventilation and air conditioning system that heats and cools a building. HVAC systems are found in stand-alone single homes, large residential buildings, and commercial buildings.
Some of the most important parts of a HVAC system are the heat exchanger, blower motor, combustion chamber, condenser, evaporator, thermostat, and the vents and ducts that distribute the air.
Many professionals break down a modern residential HVAC system that contains both the traditional furnace and/ or a split-system air conditioner into eight basic parts. In the more traditional residential HVAC systems, the main unit is usually the furnace or the air conditioner. HVAC systems can be either central or decentralized. For commercial spaces the HVAC systems contains both heating and cooling capabilities. Modern HVAC systems have a heat pump that works both as the furnace and the air conditioner.
1. Thermostat
Has a direct connection to heating and cooling components, allowing it to control when the furnace and air conditioner come on. In most HVAC systems there is usually more than one thermostat installed in different zones within the building.
2. Furnace and Blower Motor
The furnace heats the air while the blower motor powers the fan that blows that air into the ductwork and out through supply registers.
3. Heat Exchanger
Every furnace, whether electric or not, contains a heat exchanger. The heat exchanger heats and blows the warm air that the furnace pulls in from the outside.
4. Evaporator Coil
Is part of the air handler component responsible for circulating air through the system. Refrigerant flows through the coil, and absorbs heat from the indoor air passing over it. With the heat removed, cool air is left to circulate back into the living space.
5. Condensing Unit / Condenser Coil
Is responsible for expelling the heat absorbed from indoor air to the exterior. This unit prepares the refrigerant for another round through the evaporator coil.
6. Refrigerant Lines
Are two copper lines that connect the outdoor air conditioner or heat pump to the indoor evaporator coil.
7. Ductwork
In a HVAC forced-air heating and cooling system, duct work is relied upon to distribute the air throughout the building/spaces. During initial construction is the easiest time to install ductwork, but retrofits are sometimes possible. For the rest of your HVAC system to work, the ductwork must be clean and intact. Cleaning the ducts annually can help extend the service life of the other HVAC components.
8. Return and Supply Registers & Vents (Ductwork components)
Outlets, diffusers, grilles, and registers are ductwork components that divide the airflow through the main and branch ductwork design. Vents are also considered ductwork components. Vent is often treated as a generic term that applies to all supply and return air sources connected to a central HVAC system. However, be aware that return and supply Registers are different from return and supply Vents. An air register has the capability of adjusting the air flow by opening and closing the damper or flaps which is usually found at the bottom of the air register.
Ductwork vents are covers that fit over ductwork openings without the added feature of be able to adjust air flow. They can be located in the ceiling, wall, or floor of an indoor space and/or outside on the roof or wall of a building. Take note that rugs, furniture and curtains should not block return and supply vents inside a room.
If you're looking for high-quality HAVC ducts & vents for your HVAC system look no further than Lambro. Our products are perfect for installing a ducted ventilation system, and our wide selection means that you're sure to find the right product for your needs.
We offer HAVC ventilation ductwork components such our 4" diameter aluminum or galvanized snap lock pipes in 24" or 60" lengths, our aluminum and galvanized adjustable elbows in 3" 90 degree, transitions in 3 1/4″ x 10″ with 5″, 6" & 7" round, as well as 3" or 4" connectors and metal worm gear and metal tension clamps, making shopping for HVAC ducting components convenient, whether it is for a residential or a commercial building.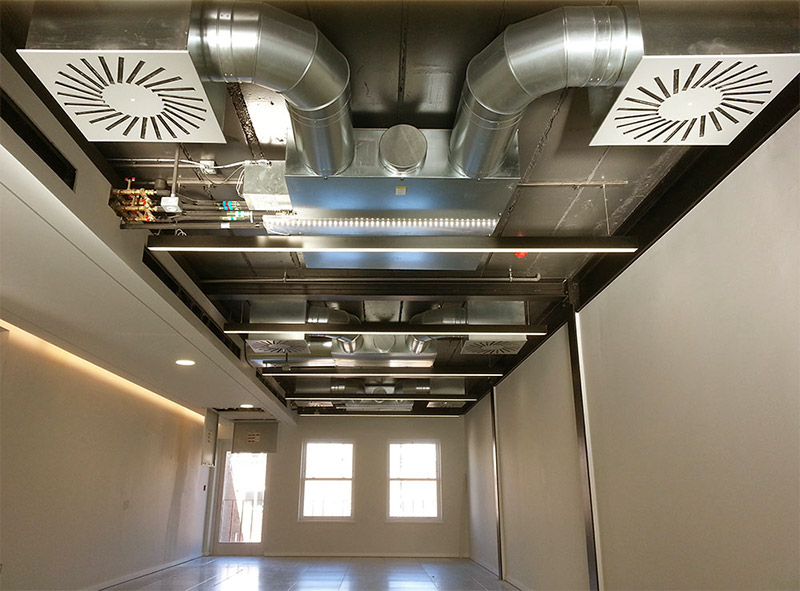 Lambro HAVC ducting products are available through a network of dealers, distributors, wholesalers and retailers in the United States, so finding the right product is easy. And because we're a leading manufacturer of HAVC vent and duct products for both residential and commercial HAVC systems, you can be confident that you're getting the best possible quality when you choose Lambro. Lambro products meet or exceed local and national building codes. Our products are made from high-quality materials and backed by a limited warranty. Many of our duct & venting HAVC components product pages include a spec sheet and installation instructions.
If you are a dealer, a HVAC professional, or general contractor contact Lambro. Our representatives will be happy to help you find the right HAVC ducting components for your needs!
If you are a consumer who is skilled in ductwork, drywall repair, and electrical work who is planning to install or update a HVAC system, contact your local big box or hardware store today for Lambro vents, ducts and other related HVAC components! To find a Lambro dealer near, please go to https://www.lambro.net/where-to-buy/
INFORMATION FOR OUR DEALERS' CONSUMERS
The HVAC system in a residential or commercial space should maintain a balance environment inside the ductwork. In order to accomplish this, the amount of air the ducts blow out should be nearly equal to the amount of air that's being sucked back into the ductwork. Without an adequate amount of supply and return vents, the pressure inside the ducts can become unbalanced, causing a space home to feel less comfortable. It is vitally important when having a home built or installing a new HVAC system, to make sure precise measurements are taken of the home's or commercial space's air flow needs before the HVAC system is installed.
Types of Ductwork for HVAC Systems
HVAC systems are installed in homes or commercial businesses to provide a clean and comfortable environment. Although a central heating and air unit is essential for a home's HVAC system, the ductwork and vents are just as important. Ducts, commonly installed in attics, basements, or crawl spaces in residential buildings and through the ceilings and walls in commercial buildings ensure that air travels where it needs to go.
There are basically two categories for ductwork: rigid and flexible.
Rigid ductwork may be made from aluminum or galvanized steel. It has a smooth surface on the inside and outside, helping to ensure easy cleaning and making it difficult for mold to take hold. While durable, and mostly puncture-proof, this ridged type of air duct can be challenging to use within tight spots. It is available as rectangular or round ductwork. Rectangular air ducts are often the best option for low-pressure HVAC systems in residential homes. The alternative is round ductwork which is commonly found in newer homes.
Flexible ductwork consists of wire coils with a covering that's typically made from vinyl plastic. See Lambro's 4″ x 8′ Flexible White Vinyl Duct #217 which is not to be used for high temperature venting applications or our 4″ x 50′ LamaFlex UL 181 Class 1 Air Connector #450UL that has a maximum operating temperature of 250°F.
The advantage of using flexible ducts is its ability to bend, very helpful when working in tight areas. Flexible ductwork also means less work for you or the HVAC professional installing the ductwork. However, this type of duct can be punctured and can sag causing kinks and thus diminishing its effectiveness.
Considerations when using Rectangular versus Round Ductwork
Round ductwork is just as durable as rectangular, but round ductwork is easier to manufacture and its design has fewer seams than its rectangular counterpart. For medium to high-pressure systems round ducts are great, although they do require more height to install compared to rectangular air ducts. Rectangular ductwork tends to be heavier. There are also more areas to seal due to its fabrication that involves more rivets and joints. Round ductwork is lighter and can be used for longer runs with fewer joints to restrict airflow, making it overall, more efficient and easier to install.
Lambro offers rigid snap-lock pipe (4" diameter in 24" or 60" lengths) , flexible ducts, and flexible, semi-rigid ducts in 3", 4" and 10" diameters with either 8' or 25' lengths. Also, check out our Flexible Semi-Rigid Aluminum Duct Kits.
Just one example of our flexible semi-rigid aluminum ducts is this 6″ x 8′ Flexible Semi-rigid aluminum duct #3060 which is ideal for applications where building codes require the use of all aluminum duct
In addition to the duct work, vent covers are also needed to fit over ductwork openings.
Types of Vents for HVAC Systems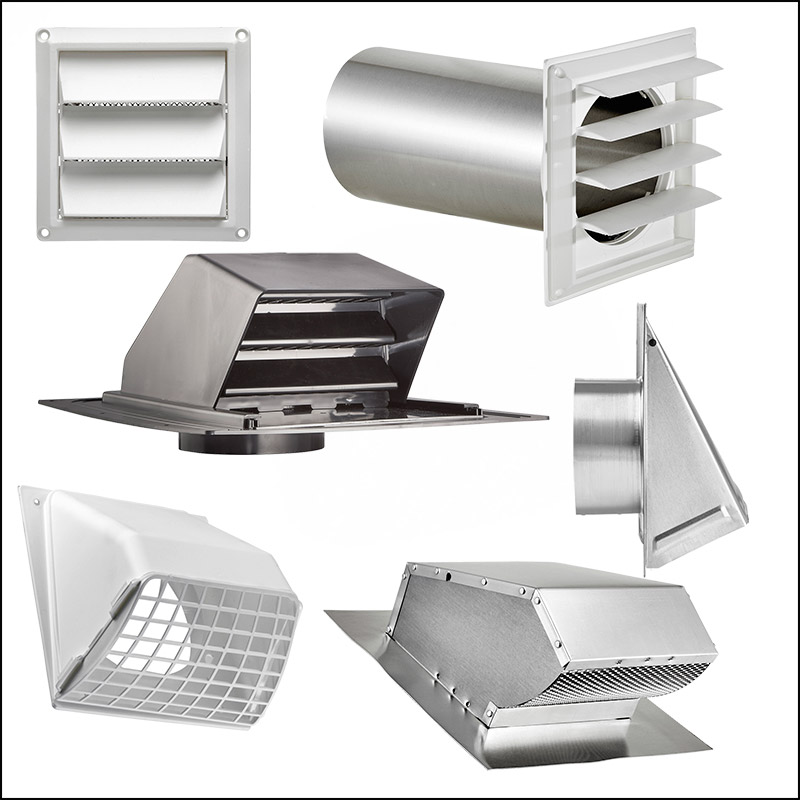 There are three types of venting in a residential or commercial space: venting for supply air, return air, and exhaust air.
Supply vents are usually found high up on the walls or on the ceiling of a space. They are connected to your supply ducts and blow either warm or cool air into the room. They are typically smaller than return vents. Most supply vents have louvers or slats (located behind the grill), allowing the direction of the airflow in the room.
Return Vents, connected to return ducts, are air vents that are designed to circulate "spent" air through a conditioning unit back into the HVAC system for reintroduction. Return vents don't have louvers. They are typically larger in size than a supply vent.
Exhaust Vents cover the openings of ducts that lead to either outside walls or the roof to convey air from the inside to the outside. An exhaust duct system would be for bathroom venting, kitchen range venting or to convey contaminated air from industrial processing and work spaces.
Installing or replacing sections of existing ductwork in a home isn't as expensive as having an entirely new HVAC system installed. If it's just a short run of ductwork that needs to be replaced, you may be able to handle it. If it's a major overhaul of the HVAC systems ductwork, we suggest that you consider a hiring a HVAC professional.
No matter what type of ductwork and vents you choose for your HVAC system, Lambro has the products you need. We offer a variety of HVAC duct and vent products, including exhaust vents, intake vents, supply and return vents, HVAC ducts, transition fittings, wall caps and more.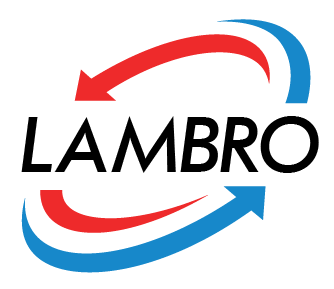 With the extensive line of HVAC venting products including ducts, wall & roof caps, clamps, elbow, connectors, kits, snap lock pipes, and more offered by Lambro, distributors, wholesalers and retailers are sure to find the best options for their customers.
Give us a call at (800) 645-2860 or fill out our Contact Us form.