Lambro Kitchen Venting
A critical part of a kitchen's ventilation system for range hoods includes the necessary ducts and vents that capture smoke, odors, humidity and heat at the source (the stove/ range) before  it dissipates into the rest of one's residence. For commercial kitchens, every component of a commercial ventilation system must function together so the whole system contributes to controlling the temperature, humidity, and airflow thus helping in improving the indoor air quality and minimizing possible dangers or risks to both employees and customers.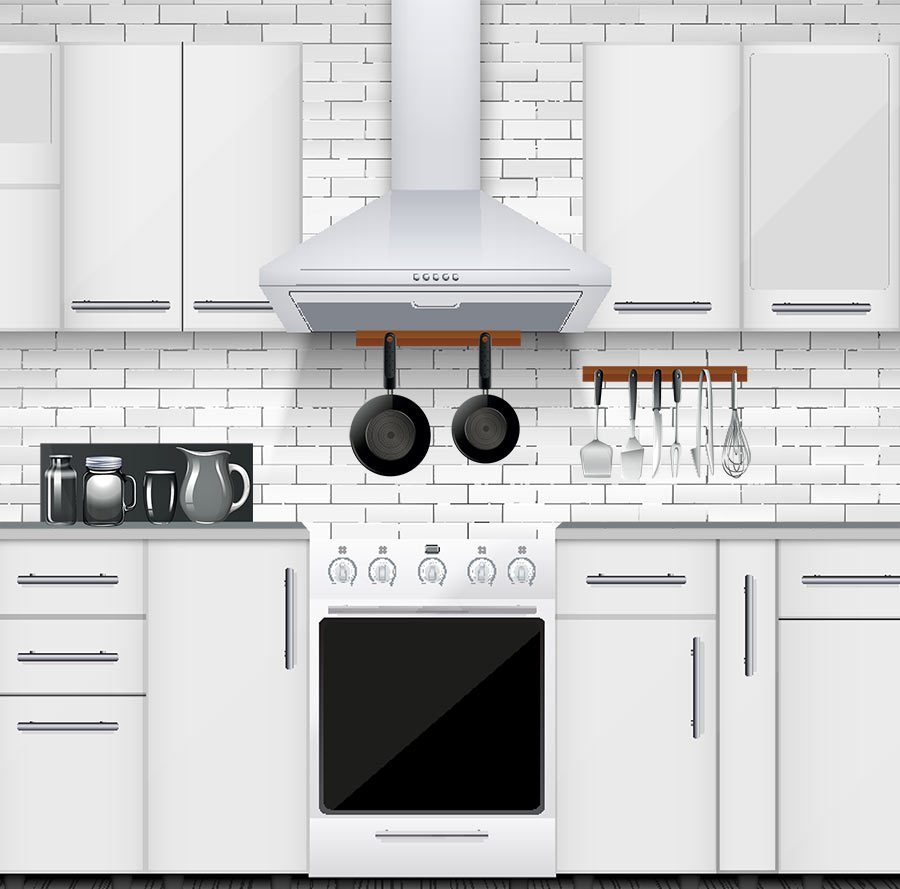 When it comes to kitchen appliances such as a fridge, dishwasher, or microwave, venting is not required. However, it's important to note that although a microwave doesn't require a range hood or ventilation system, since it doesn't produce smoke, steam, or grease like a stove or oven would, nor is there a requirement that an OTR (above the range) microwave should be vented outside, some homeowners prefer to do so.
For many people purchasing a venting hood for their range is often becomes a weighty style decision. Some range hoods allow cooking utensils and pots or pans to hang from them next to the back splash if there is enough room or to either side of the hood for storage and convenience.
When selecting a range hood for both commercial kitchens and residential kitchen, aside from the aesthetic consideration, it is necessary to take into account the type of range(s), the power of the range(s), and the way they will be used.
The International Residential Code and the U.S. Environmental Protection Agency strongly advise homeowners to install a vent hood to capture, filter, and then expel the cooking fumes to the outside through a vent in an exterior wall or through the roof. Professionals who design / build commercial restaurant kitchens will make sure that the business' ranges and hoods not only will meet all cooking needs, but also satisfy all local regulatory requirements.
For residential home/ apartments, the preferable range hood is ducted, but a ductless model would be the next best option when you're not able to connect the range hood via ducts to the outside. This is an issue for many apartment dwellers.
Designs for residential kitchen stove hoods range from under cabinets, wall-mounted chimney above the tile backsplash, ceiling-mounted chimney/ kitchen island above the range and countertop, to custom built-ins.
Whether you plan on doing the installation yourself or hiring a contractor to install a range hood and venting system, the necessary ducts and vents must also be purchased.
If you're looking for high-quality kitchen ducts and vents, look no further than Lambro. Our products are perfect for installing ducted range hoods, and our wide selection means that you're sure to find the right product for your needs. We also offer a variety of other ventilation accessories, making our products your one-stop shop for all your kitchen ventilation needs (other than the actual hood), whether it is for a residential or a commercial kitchen.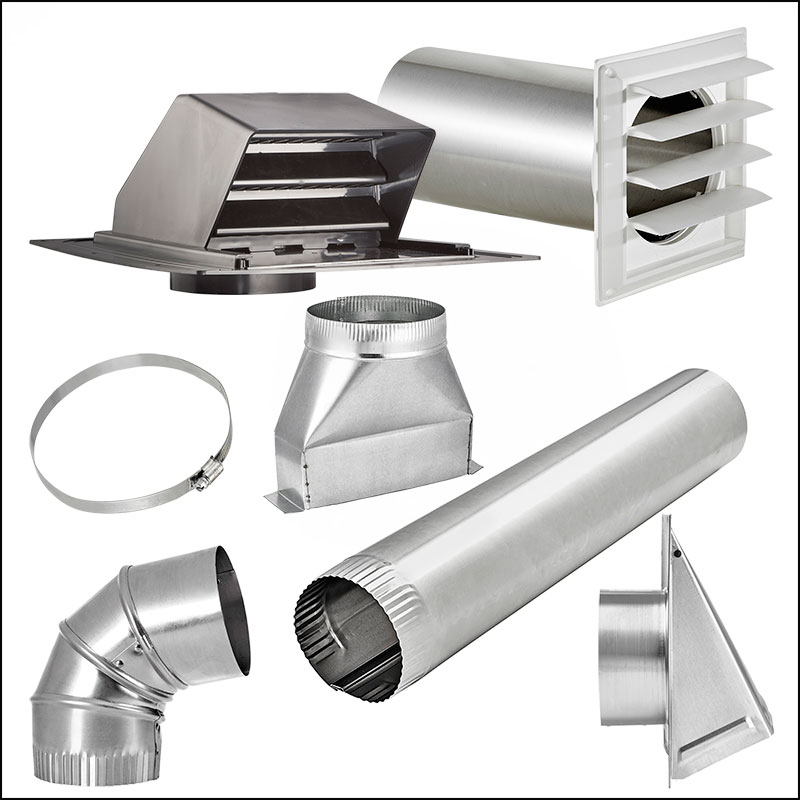 Lambro products are available through a network of dealers, distributors, wholesalers and retailers in the United States, so finding the right product is easy. And because we're a leading manufacturer of kitchen vent and duct products for both residential and commercial kitchens, you can be confident that you're getting the best possible quality when you choose Lambro. Lambro products meet or exceed local and national building codes. Our products are made from high-quality materials and backed by a limited warranty. Most kitchen venting product pages include a spec sheet and installation instructions.
If you are a dealer, a HVAC professional or general contractor contact Lambro. Our representatives will be happy to help you find the right kitchen vents and duct products for your range hood exhaust needs!
If you are a consumer who is skilled in ductwork, drywall repair, and electrical work who is planning to install a ducted range hood, contact your local big box or hardware store today for Lambro vents, ducts and other components!
To find a Lambro dealer near, please go to https://www.lambro.net/where-to-buy/
INFORMATION FOR OUR DEALERS' CONSUMERS
Three of the most important features to consider when shopping for a ducted range hood are:
Width of hood which should match the stove's width
The CFM (cubic feet per minute) of the stove which will help determine the duct size. The CFM is a range hood rating for how much air the hood can exhaust every 60-seconds.
Design of the range hood which could be an under-cabinet or wall-mounted chimney- with an updraft wall mount, a ceiling-mounted chimney for kitchen island stoves with an updraft island mount, or a custom built-in.
All ventilation hoods using ducts fall into three main categories whether they are for a residential or commercial kitchen: a downdraft, an updraft wall mount, or an updraft island mount ventilation hood. Commercial kitchens have what are referred to as professional-grade hoods, which usually have an updraft wall mount, or an updraft island mount.
Some things to consider before making a kitchen venting ductwork purchase.
Know your Kitchen Hood Vent Codes so you will pass inspection for your work
You should know that kitchen hood vent codes  are based on both the IRC and your local code.
Many U.S. states and counties base their code on the IRC code. However, for the final say on any code matter, you will need to consult your local state or city building codes or make a call to your local building department.
According to the Kitchen Hood Vent Codes:
+ Range hood ducts always need to be either galvanized steel, stainless steel, or copper.
If you are considering aluminum ducts make sure they are not in violation of your local state or city building codes. On the other hand Lambro's semi-rigid aluminum duct is ideal for applications where building codes require use of all aluminum ducts. Our duct is totally non-combustible with a maximum operating temperature of 400°F
+ Interior of the duct should be smooth (no ridges)
+ Range hood duct needs to be air tight
+ Hood needs to have a backdraft damper that closes the vent when the hood is not in use
+ The exhaust duct needs to be independent and not connected to any other exhaust system such as a bathroom fan
Look for rigid duct with a smooth interior. It is considered the best type of duct to vent a range hood.
Make a careful measurement of the duct size of the range's hood. Select ducting that's the same size as or slightly larger than the vent opening. You will find that the more powerful the hood, the larger the duct.
Determine where the ducting will be placed within the walls and where it will exit the structure.
Realize you may be required to have a makeup air system installed if your range hood is rated at 400-cfm or greater.
Kitchen Venting Where and How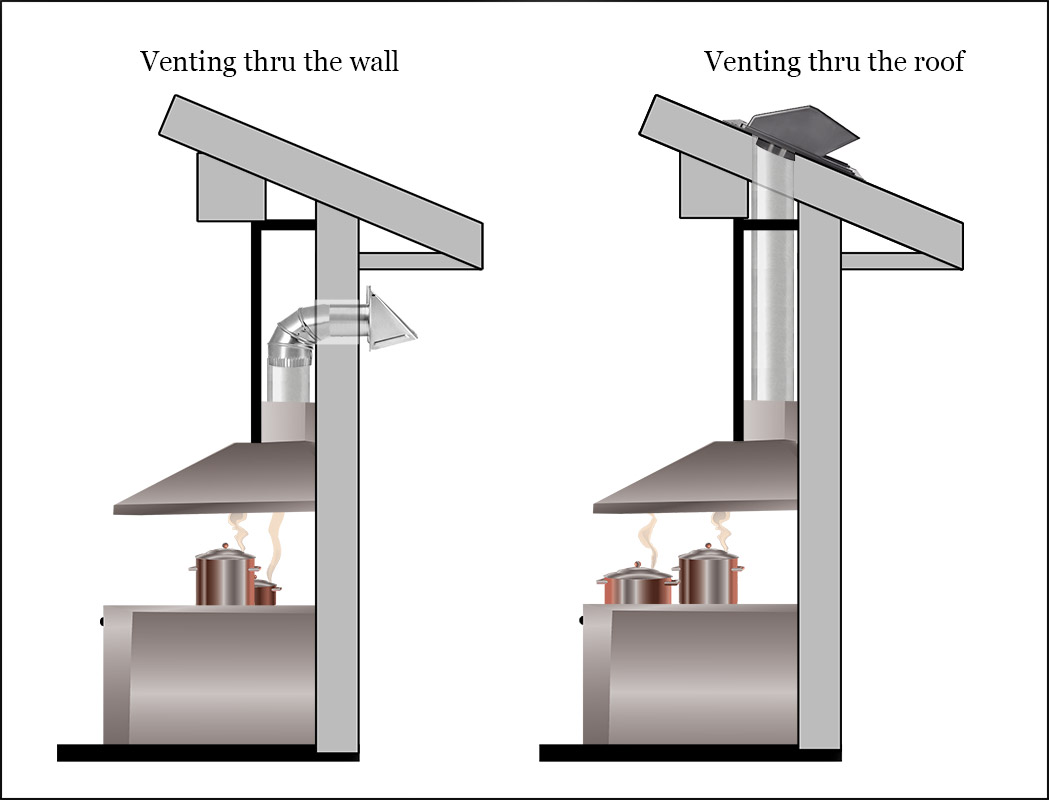 The best hood ventilation option in the kitchen is to vent vertically since hot air rises upward. Vertical venting will help move the air out faster. But, this is not required and in some cases impossible. The next best choice is venting through a side wall. DO NOT vent your kitchen cooking into an attic or crawl space. It is neither smart nor healthy for smoke, cooking exhaust, humidity, and contaminants to build up in your attic.
To install a ducted range hood, you need room for the ductwork. The ducting should be placed so it will NOT interfere with any electrical wiring, studs, or support beams. Using a duct elbow to navigate around some obstacles is OK as long as you do not use more than two. Try using gradual, 45-degree turns rather than 90-degree ones.  Every time there is a change in the direction of venting ductwork, resistance and additional pressure is added to the air exiting the kitchen making it less efficient.
Remember, that a shorter duct length is always better. Most professionals recommend that the ductwork is no longer than 30 feet and for each elbow in the ducting system, reduce the total length of the duct run by 5 feet – 10 feet.  The shortest and straightest route of ductwork to the outside of the home / building is the best for the power, efficiency, and longevity of your stove's vent hood. You want to get the best airflow and the least amount of grease buildup for your kitchen fan vent. Even with a powerful range hood, if the duct is longer than 30" or has more than 2 duct elbows, the air will not vent efficiently.  When a range hood can't easily move air, the result  is a buildup of grease and dirt inside the ductwork.
Professionals advise the use of rigid galvanized steel or metal HVAC ducting only. Plastic flexible duct is not appropriate for kitchen range venting.
Also, use round duct with a smooth interior ( no ridges). It is more efficient and cost-effective than a rectangular duct.
Don't forget to seal the exterior end of your duct with a wall or roof cap. The roof cap should match the diameter of your ductwork. A roof cap is used to cap vertically run ducting, while a wall cap seals ducting that vents out an exterior wall. The roof or wall cap keeps dirt,  debris, and animals out of your duct. It also helps prevents back drafting. Finally, use caulking to seal exterior openings around the cap.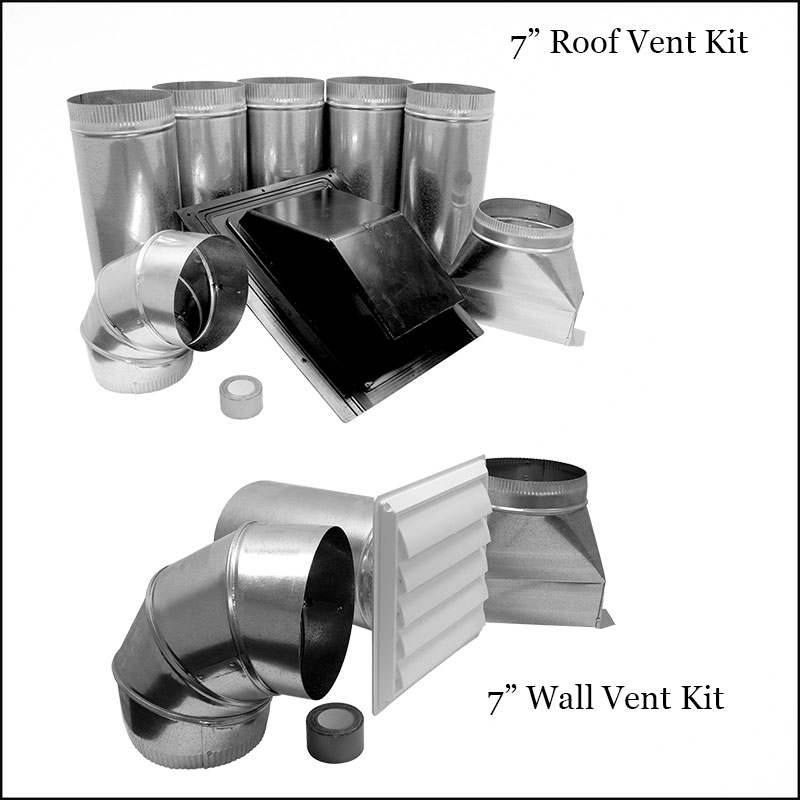 Lambro offers a 7″ Roof Vent Kit in a shingle roof installation or a 7″  Wall Vent Kit to vent over-the-range microwaves.
Lambro suggests that you consult a licensed contractor to ensure you make the right decision on your range hood duct system even if you plan to do it yourself.  For the rest of us, we suggest finding a great contractor to install your ductwork for a less stressful experience.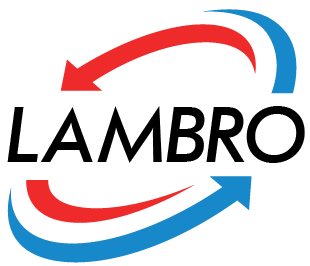 With the extensive product line of kitchen venting products including ducts, wall & roof caps, clamps, kits, snap lock pipes, and more offered by Lambro, distributors, wholesalers and retailers are sure to find the best options for their customers. Give us a call at (800) 645-2860 or fill out our Contact Us form.