Dryer Ducts Page
Lambro is a leading manufacturer of dryer ducts. Our products are made from high-quality materials and backed by a limited warranty.
Lambro sells its dryer duct kits and products through a network of dealers, distributors, wholesalers and retailers in the United States.
All of our dryer duct products meet or exceed local and national building codes. If you are a dealer or contractor contact Lambro. We will be happy to help you find the right product for your dryer duct needs!
If you are a consumer and need new dryer ducts, contact your local big box or hardware store today for Lambro dryer ducts!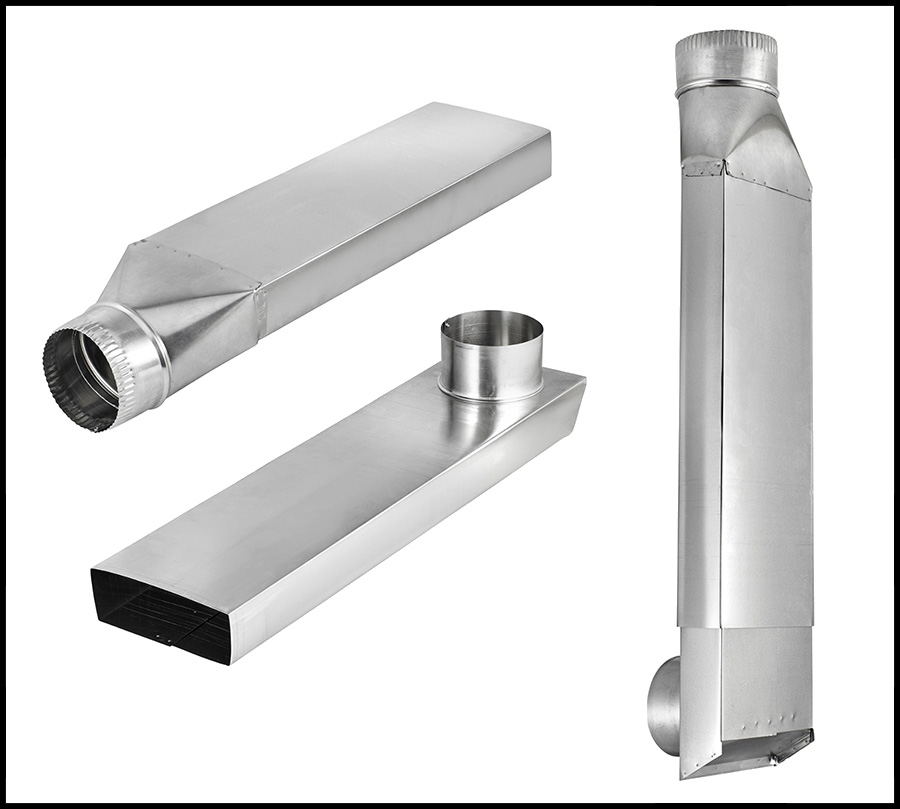 Dryer venting ducts provides the means by which clothes dryers exhaust humid air to the outdoors as freshly washed clothes are dried. Before buying ducts for venting a clothes dryer check the dryers manufacturer's specifications for the type of duct they recommend to use with a particular model. Also check your local building codes.
The National Fire Protection Association (NFPA) code 2158 states that clothes dryers must be vented to the outside of the building.
The International Residential Code (IRC) M1401.4 requires that clothes dryers be exhausted to the outdoors through an approved duct. The duct material could be rigid metal, semi-rigid metal duct, rigid nonmetallic duct or another type of ducting listed in the dryer manufacturer's installation instructions.
The duct should be installed in accordance with the manufacturer's instructions and should not be concealed within construction.
The Dryer Manufacturer's Association (DMA) recommends that clothes dryers be exhausted to the outdoors through a rigid or semi-rigid metal vent pipe of not less than 0.016-inch (0.4mm) thick material with smooth interior surfaces.
Many local building codes do not allow vinyl/plastic vent tubing, and some building codes forbid any form of flexible venting ducts.
Dryer ducts come in three main types: rigid, semi-rigid and flexible.
The most common types of dryer venting ducts are:
· Foil Flex Duct- Aluminum
· Semi-Rigid Duct – Aluminum
· Periscope or Slim Duct
· Rigid Metal Duct – Aluminum
Lambro has dryer duct products that cover all these most common types.
We also offer a variety of kits that contain all the parts required installation. Kits are a convenient way to purchase a duct venting system for a clothes dryer.
An example: Laminated Transition Duct, hood vent, trim plate and the necessary clamps.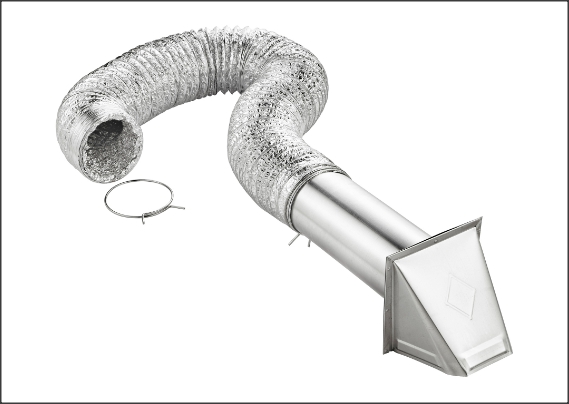 4′ x 5″ UL 2158A Transition Duct Preferred Hood Vent Kit
No matter which type of dryer duct venting solution you choose, be sure to follow the installation instructions carefully to ensure proper ventilation. Improper installation could result in unexpected issues later.
If you have any questions about the installation or maintenance of your dryer venting system, consult a professional contractor.
Here's a quick overview of the most common types of dryer ducts:
Foil Flex Duct: Aluminum foil duct is a popular choice for dryer vents because it is lightweight and easy to work with. However, it is not as durable as other options and can tear easily if not installed correctly. It is also not recommended for use in high-humidity areas, as it can promote the growth of mold and mildew. May not be allowed by some local building codes although Lambro's product is UL certified 2158A marked duct for clothes dryer venting applications.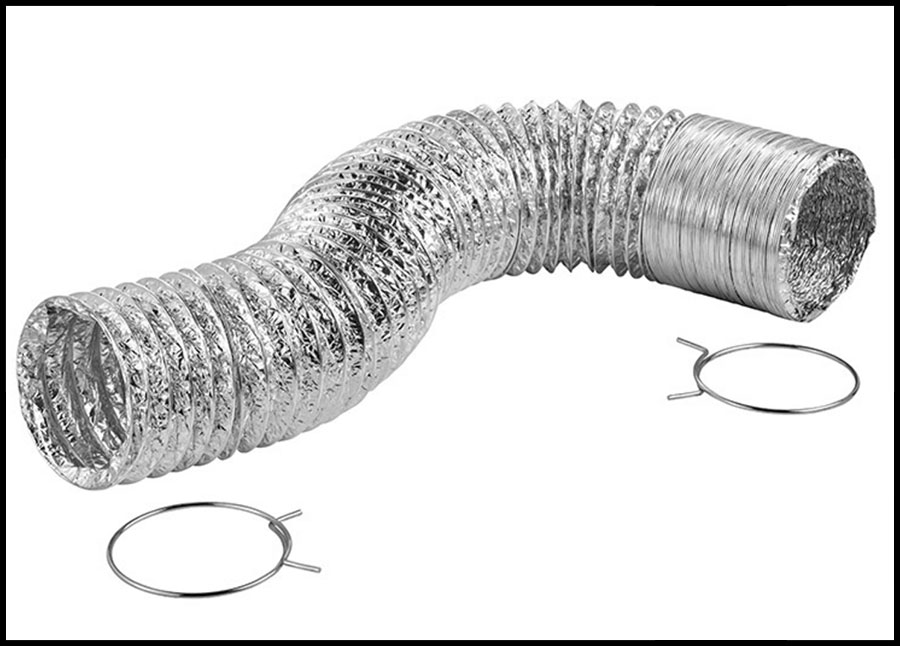 UL 2158A Clothes Dryer Laminated Transition Duct – Kit
Aluminum Semi-Rigid Duct:Aluminum semi-rigid ducts are more durable than aluminum foil ducts and can be used in high-humidity areas without worry. They are also easier to install than rigid metal ducts, but not as easy as aluminum foil ducts.

UL 2158A Semi-Rigid Transition Duct Preferred Hood Vent Kit
Slim or Periscope: Slim fit duct, also known as periscope dryer vent, is a good choice for tight or cramped spaces where a traditional dryer vent will not fit. A periscope cutout could be mounted vertically, horizontally, and diagonally in limited places, providing you with more adaptability. NOTE that it is can be trickier to install, as well as being somewhat more expensive.
See Lambro's TiteFit 90 Degree to Straight Rectangular Aluminum Dryer Duct
This duct allows for the dryer to be placed 3" from the wall for optimum space utilization.
Rigid Metal Duct: Rigid metal duct is the most durable option, but it is also the most difficult to install. It is a good choice for lengthy install runs and is less likely to become clogged with link. Our Aluminum Snap-Lock Pipe can be used to vent most types of heating units including gas and electric clothes dryers.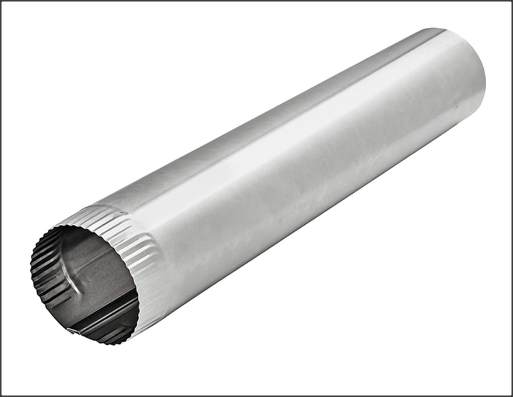 This product features an easy to close snap lock system. It's composed of a non-combustible, all aluminum construction. Can be used to vent most types of heating units or as a transition duct in dryer venting applications. A hood vent with a tail pipe is attached to this transition duct.
Vinyl Duct/ Flexible Plastic: Because of their potential to collect lint, overheat, and actually cause fires, vinyl ducts or flexible plastic ducts are NOT recommended to vent a clothes dryer. If your dryer duct is made of vinyl or flexible plastic material, we recommend that you replace it.
CARE for Dryer Ducts
If you find that the dryer is not working efficiently, it may indicate that the dryer duct and vent need to be cleaned. Professionals recommend cleaning your dryer ventilation system at least once a year.
We suggest:
· Removing lint from the lint trap after every load of laundry. This will help reduce the amount of lint that builds up in the vent over time.
· Vacuuming around the dryer vent opening on a monthly basis. This will help remove any lint that has accumulated around the opening.
· Detaching the dryer vent from the dryer to clean it with a vacuum cleaner attachment or a brush. Be sure to reach as far into the vent as possible to remove all of the lint.
· Inspecting the dryer ducts for any blockages. If you find a blockage, use a vacuum cleaner attachment or a brush to remove it.
Lambro offers a LintEater, a 10 piece dryer vent cleaning system that works great for longer dryer vents.