Lambro Washing Machine Pans
A washing machine pan is a type of pan that is specifically designed to be used under a washing machine. The pan is usually made of plastic or metal and has a raised edge to prevent water from leaking out. The pan also has a drain hole to allow water to drain away from the washing machine.
Installing a washer drain pan is an easy, inexpensive way to prevent water damage from a leaking washing machine. A drain pan slides under the washing machine providing the first line of defense against leaks, accidental spillage or anything that might drip from the machine. A washer pan can catch any leaks due to washing machine overflow or hose failure, or any drips from where the hoses connect to the washing machine. A washing machine pan can also protects your floor from condensation.
If your laundry room is upstairs, a washing machine drain pan is recommended to protect against leaks that can seep into the walls/ ceiling of the room below. It's best to check your local building codes and insurance requirements before installing a washing machine.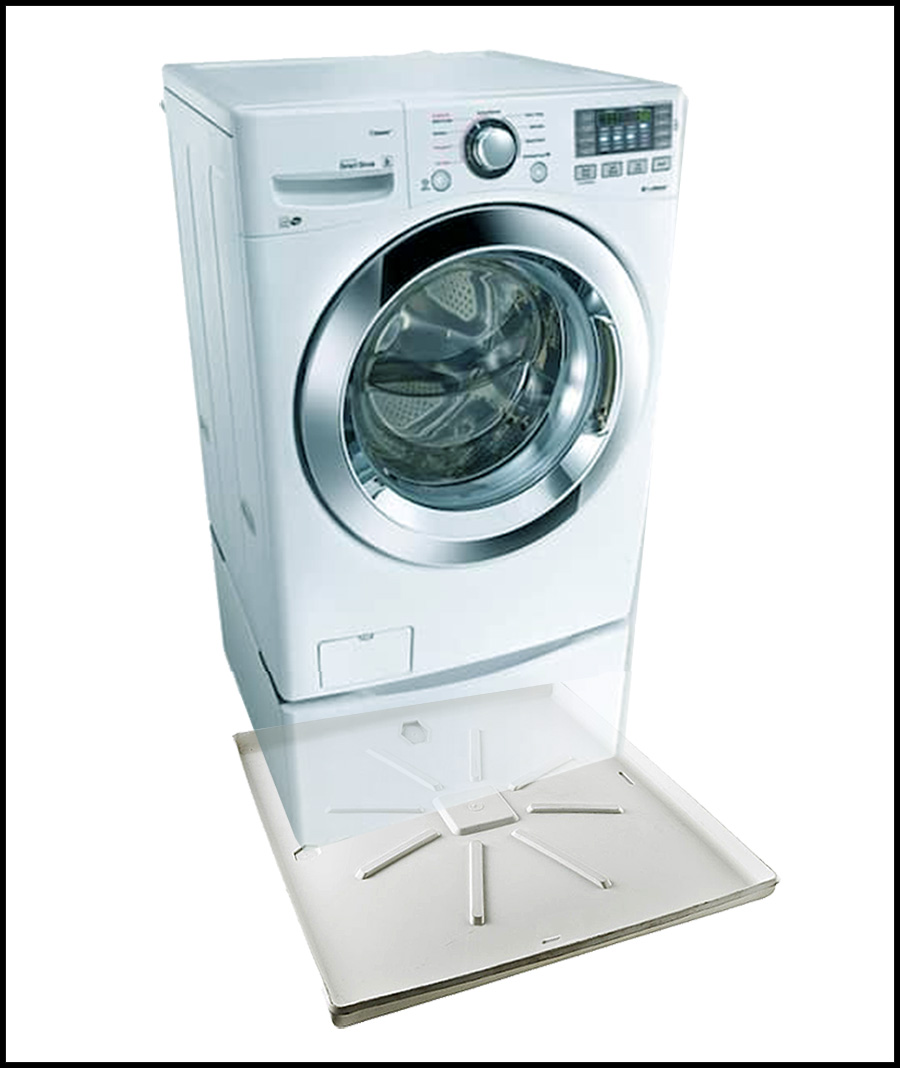 Lambro offers a standard washing machine pan and an over-sized washing machine pan.
These products are available for consumers through a network of dealers, distributors, wholesalers and retailers in the United States, so finding the right product is easy. Lambro products meet or exceed local and national building codes. Our products are made from high-quality materials and backed by a limited warranty.
If you are a dealer or general contractor, contact Lambro. We will be happy to help you find the right washing machine pan products, as well as ducts and vents for your construction needs!
If you are a consumer looking for a washing machine pan contact your local big box or hardware store today for Lambro's 29″ X 31″ STANDARD WASHING MACHINE PAN and 31″ X 36″ OVERSIZED WASHING MACHINE PAN.
To find a Lambro dealer near, please go to https://www.lambro.net/where-to-buy/
INFORMATION FOR OUR DEALERS' CONSUMERS
Safety Tips When Installing Washing Machine Drain Pans
Before Installation
· Use the setup manual and follow the steps. Lambro's washing machine pans have both a spec sheet and installation instructions on their respective product page. Make sure you have unplug any power to the machine and have nothing inside the washing machine.
· Get Additional help. If you are installing the washing machine drain pan as a DIY, get an additional person(s) to help. However, you could opt to get a professional team to install the pan.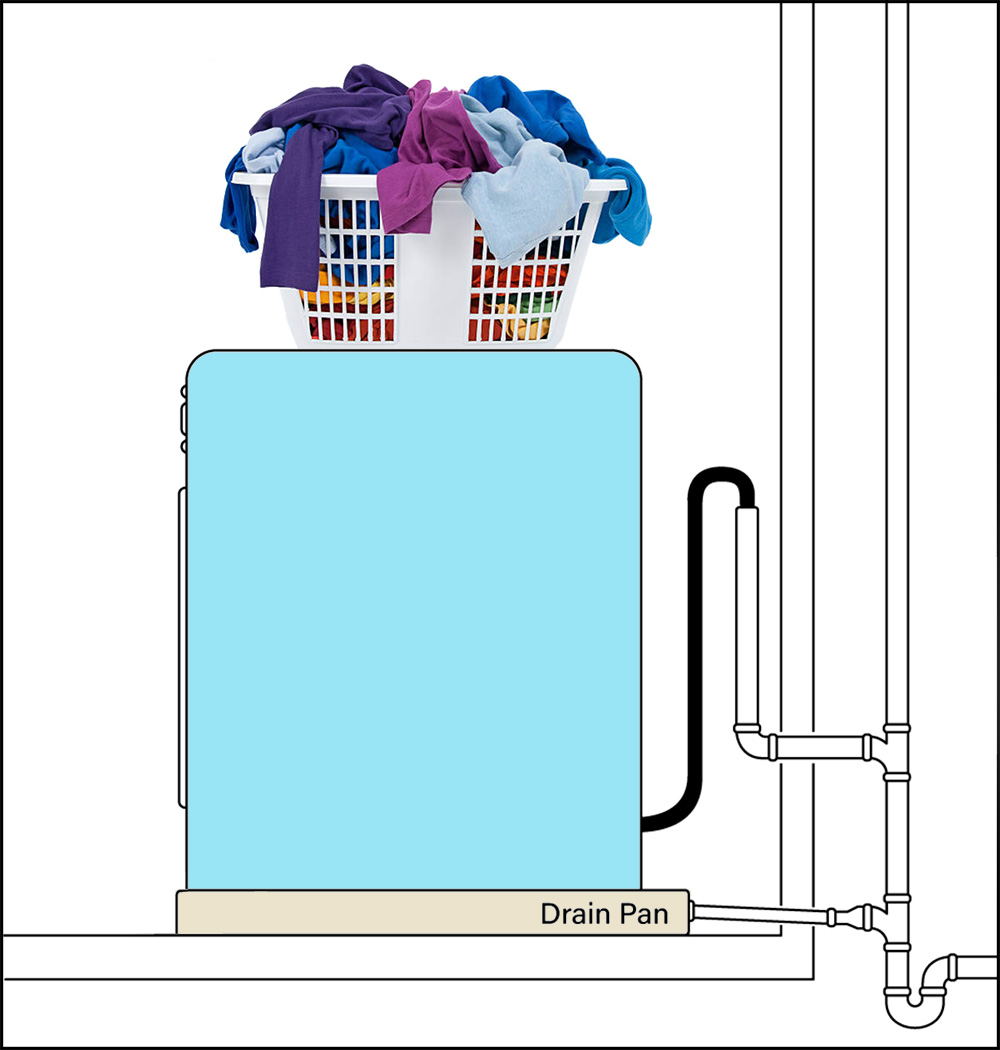 During Installation
· The drain pan must be connected to a drainpipe to drain water from the pan. Drain pans use either bottom or side drains to channel water out of the pan to a floor drain which connects to a drain-waste-vent system via a drain fitting and PVC pipe.
· Some pans have a formed hole that must be punched out to install a 1-inch PVC fitting. Drain pans without a pre-cut hole will require drilling the proper sized hole.
· You may need to hire a plumber to connect the washer pan to your floor drain.
· The use of anti-vibration pads at the bottom of the drain pan will help reduce the vibrational movement of both the machine and the drain pan.
· Check to see that every inlet and outlet is securely connected.
· Once the pan is in place, carefully lift and move the washing machine back to its location. Place the washing machine carefully over the pan, so the washing machine is centered above the drain pan.
Keeping a Washing Machine Drain Pan Working Optimally
Inspect your washing machine drain pan every six months or earlier if there is an unpleasant smell or you notice water on the floor.
Maintenance Cleaning of your Drain Pan
To prevent any odors developing from even a little standing water in the drain pan, make sure to clean the washer's drain pan thoroughly and remove all water that has not drained away.
The best way to eliminate any standing water in the washing machine drain pan is with a wet vacuum since water can be sucked up in an instant. An alternative to using a wet vacuum would be the use of towels or a large sponge.
There are a number of cleaning products available to clean a drain pan. Using a sponge or cloth to wipe down the inside of the pan, make sure to get into all of the nooks and crannies. Rinse the pan well with clean water, and dry it with a towel. Spray the drain pan with a non-toxic, eco-friendly cleaning product.
If you are doing it as a DIY, get help since cleaning the pan may require the washing machine to be lifted for easier access to the pan.
If there is excess stagnant water collecting in your washer drain pan you may become aware of an unpleasant smell. You can make a natural enzyme by sprinkling some baking soda in the drain pan and then adding white vinegar. This baking soda and vinegar combination neutralizes bad smells with its strong alkaline properties. Let this mixture sit overnight. Wash it away the following day or evening.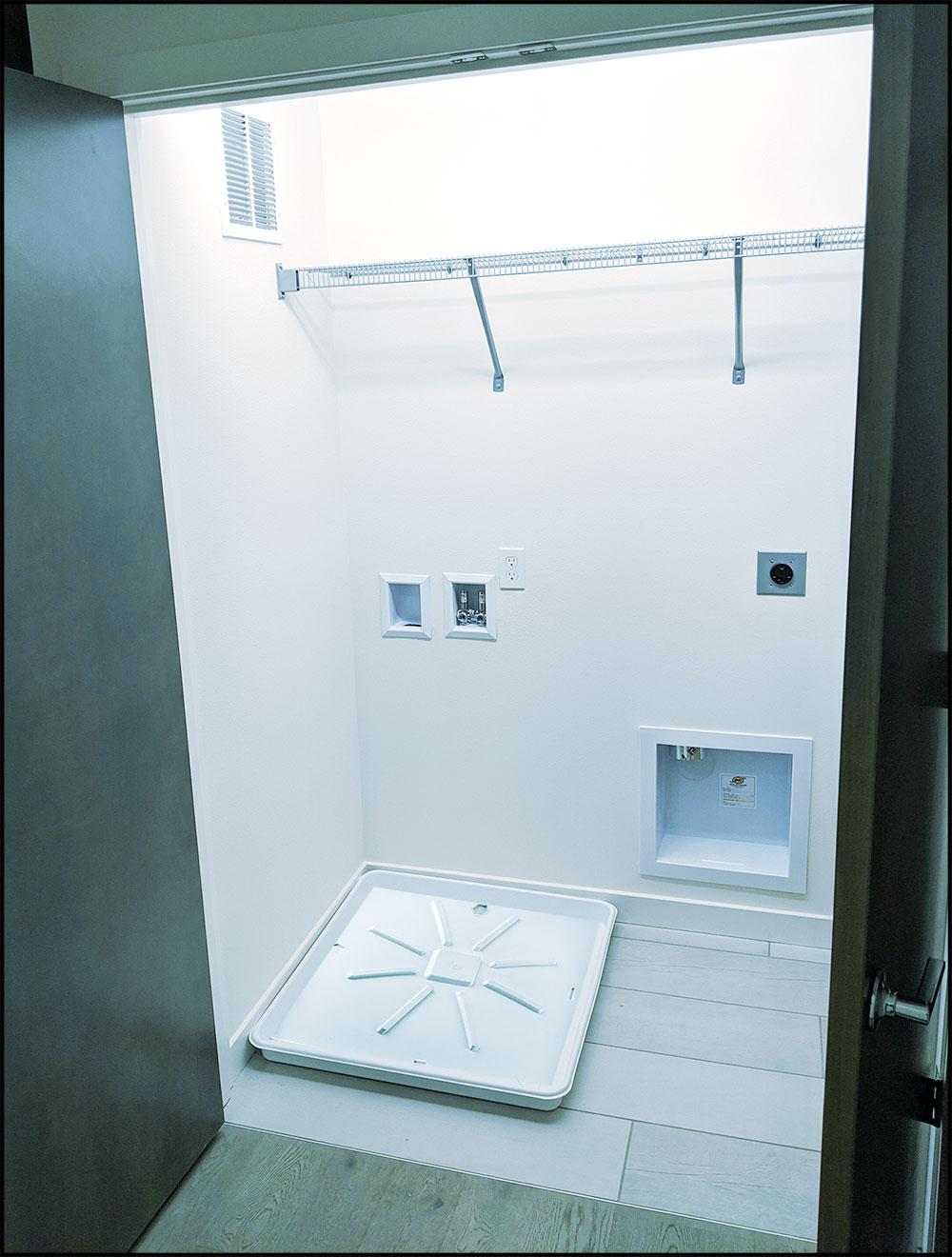 Inspection of your Drain Pan for Cracks, Breaks, and Clogging
Check for cracks and breakages on your machine drain pan. Some experts suggest you do this every six months or so. In addition, look for wet spots near the drains. Wet patches on the floor where the machine stands could indicate that there is a crack / breakage in the pan or a clogged drain. If left unaddressed mold or mildew can develop, and any excessive condensation can damage cement floors and rot or warp wooden floors.
Inspecting and cleaning your drain pan will help increase protection against future problems while increasing the pan's longevity.
Installing a washer drain pan is an easy, and relatively inexpensive way to prevent water damage from a leaking washing machine. Help prevent a potentially expensive, water disaster. Buy a Lambro washing machine pan, today.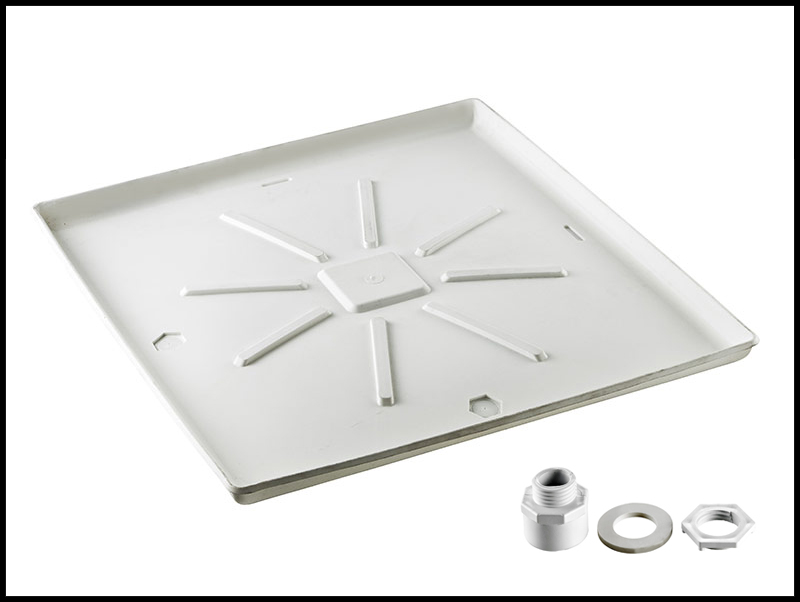 Lambro offers both a 29" x 31" Standard Washing Machine Pan and a 31" x 36" Over-sized Washing Machine Pan
Each Lambro washing machine pan/tray includes a 1" drain fitting with washer and nut.
· 2 ½" depth pan
· Tray collects and drains water due to overflows
· Ideal for second-floor laundry rooms
· Tray won't bend or rust like metal pans
· Protects floors from leaks and scuffs