Bathroom Fan Ducts & Vents from Lambro
Bathroom fans along with the necessary ducts and vents are a critical part of a home's ventilation system. Yet having a bathroom intake and / or exhaust fan is often overlooked, particularly in you live in an older rental, condo or coop apartment. For new homes, an exhaust fan in the bathrooms is a must.
If you're looking for high-quality bathroom fan ducts and vents, look no further than Lambro. Our products are perfect for installing bathroom intake and exhaust fans, and our wide selection means that you're sure to find the right product for your needs. We also offer a variety of other ventilation accessories, making our products your one-stop shop for all your ventilation needs.
Lambro products are available through a network of dealers, distributors, wholesalers and retailers in the United States, so finding the right product is easy. And because we're a leading manufacturer of bathroom vent and duct products, you can be confident that you're getting the best possible quality when you choose Lambro. Lambro products meet or exceed local and national building codes. Our products are made from high-quality materials and backed by a limited warranty.
If you are a dealer, a HVAC professional or general contractor contact Lambro. They will be happy to help you find the right bathroom vents and duct products for your needs!
If you are a consumer who is skilled in ductwork, drywall repair, and electrical work who is planning to install a bathroom fan, contact your local big box or hardware store today for Lambro vents, ducts and other components!
To find a Lambro dealer near, please go to https://www.lambro.net/where-to-buy/
INFORMATION FOR OUR DEALERS' CONSUMERS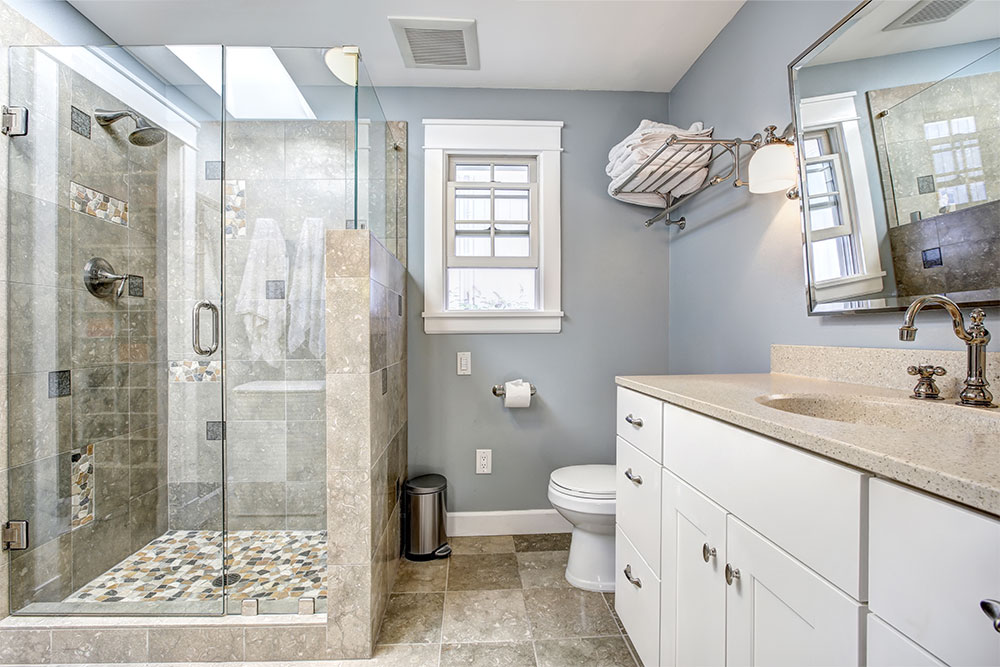 You need better ventilation in a bathroom if there is:
· Mold or mildew growth on bathroom walls, bathroom ceiling, tiles, and even on the caulking around the shower or bathtub.
·Bathroom window trim paint is damaged with cracks and peeling
· Mold growth and stains found on the roof sheathing in attics or roof cavities over bathrooms
· Frost forming in the attic over the bathroom area on the roof's underside during freezing weather due to possible leaks in the exhaust duct or the duct is not insulated.
Insulated flex duct offers many advantages that other types of ductwork don't. Your exhaust duct needs to be insulated when traveling through unconditioned areas, particularly if you live in colder weather zones. While code requirements don't stipulate that you always need to insulate your exhaust duct every time, particularly if you live in a warm climate zone, it's wise to do so. The biggest reason for homeowners to insulate your duct is to prevent condensation, which causes water damage.
See Lambro's 4″ x 25′ Insulated Duct – Item #2574 with its R4.2 fiberglass insulation for improved energy efficiency.
Bathroom venting with a bathroom ceiling fan will also help eliminate weak or strong toilet smells and any musty stale smell from mold.
If you're installing a bathroom fan you may have to drop the bathroom ceiling to accommodate the fan housing and the duct work leading to an exterior wall or the roof.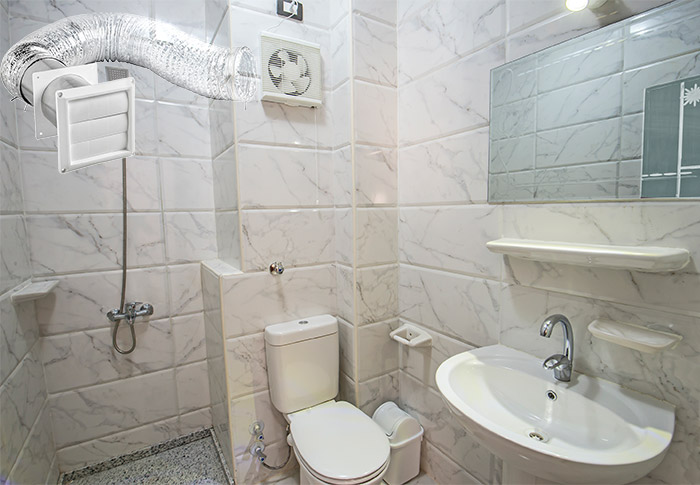 Tools you will need to replace your old bathroom fan after your ventilation duct and exterior wall or roof cap is installed.
· An easy-install bathroom fan model
· Ladder
· Measuring tape
· Circuit tester
· Screwdriver
· Drill
· Drill bits
· Jab saw
· Duct tape
· Drywall screws
· Cable clamp connector
· Wire connectors
· Spackling compound
· Paint
Here's a quick rundown of what you need to know about ducts and vents for a bathroom fan installation in your house:
Most common types of ducts used for bathroom exhaust fans:
– Rigid metal ducts
– Flexible metal ducts
– Semi-rigid aluminum ducts
– Insulated flexible ducts
Most common types of vents used for bathroom exhaust fans:
– Soffit vents
– Gable vents
– Ridge vents
– Roof vents
When it comes to bathroom fan duct installation, one of the most important things is to make sure that the ductwork is properly sealed and insulated. This will help to prevent moisture and mold buildup, and will also ensure that your bathroom fan is able to properly ventilate the space. If you're not sure about how to properly install ductwork and vents for your bathroom fan, it's best to consult with a professional. They'll be able to assess your space and make sure that everything is installed correctly.
Which Ventilation System is Right for Your Bathroom
There are two different ventilation systems to consider when deciding to purchase a bathroom fan. An exhaust fan air system only transport air out of the bathroom. A combined supply and exhaust system will supply fresh air from the outside and remove moisture from the inside. Although many professionals recommend a combination of supply air and exhaust air system particularly for new homes or buildings that tend to be more air tight, most people tend to choose exhaust type bathroom fans.
The most common types of bathroom fans which will need to use both vents and ducts with their installation are:
Ceiling-mounted
Wall-mounted
Exterior exhaust
Inline exhaust
Includes a lighting fixture
Bathroom Fans: Ways to Vent / Discharge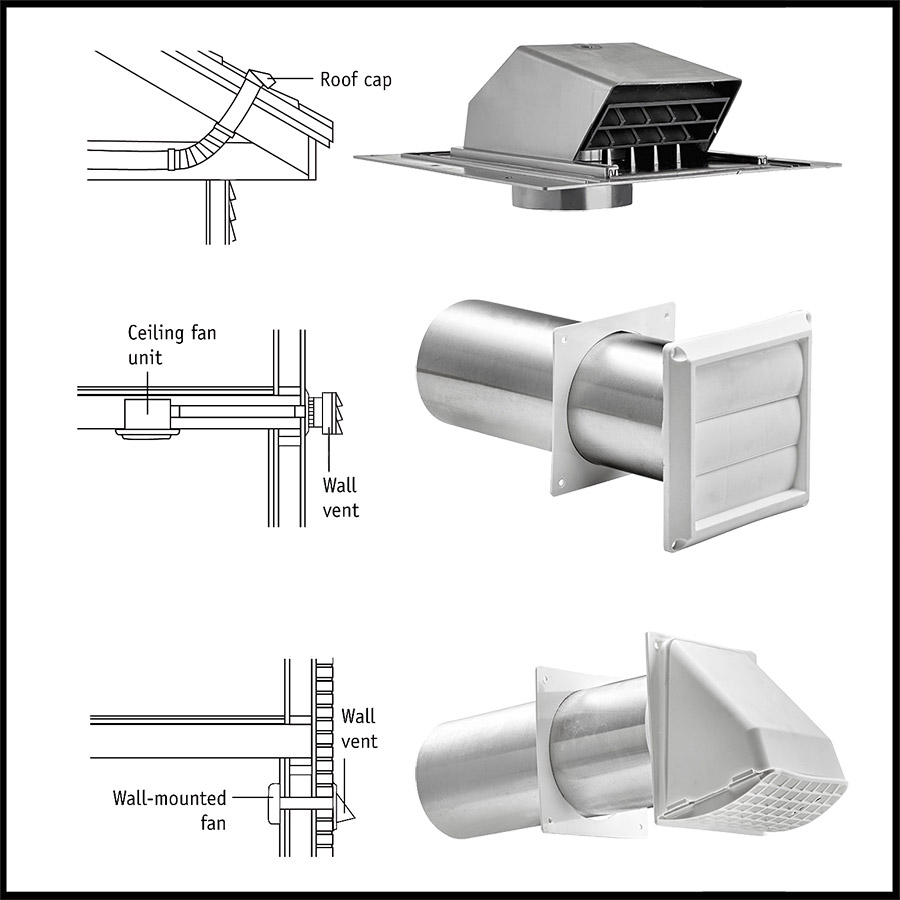 There are three main ways to vent a bathroom fan: through the roof, through a side wall, or out an exterior eave or Soffit. Each method has its own pros and cons, so it's important to choose the method that's right for your home. In each case ducts and vents will be required.
Roof Venting:
Pros:
– Roof vents are less likely to become blocked than other types of vents
– They're also less visible from the ground, so they can be a good option if you're concerned about aesthetics
Cons:
– Roof vents can be more difficult to install than other types of vents
– They may also require more maintenance over time
Side Wall Venting:
Pros:
– Side wall vents are relatively easy to install
– They're also less likely to become blocked than roof vents
Cons:
– Side wall vents may be more visible from the ground than other types of vents
– They may also require more maintenance over time
Exterior Eave or Soffit Venting:
Pros:
– Exterior eave or soffit vents are relatively easy to install
– They're also less likely to become blocked than roof vents
Cons:
– Exterior eave or soffit vents may be more visible from the ground than other types of vents
– They may also require more maintenance over time
No matter which type of venting you choose, it's important to have your bathroom fan installed by a professional, if you are not skilled in ductwork, drywall repair, and electrical work. A professional will ensure that a bathroom fan is properly vented and won't cause any problems down the line. Be aware that the ductless bathroom fans available on the market are incapable of removing moisture. They will only create airflow in the room.
Professionals recommend that no matter which option is chosen to vent a bathroom exhaust fan, make sure to insulate the duct, have air-tight connections between the duct, fan and termination pipes, and keep the length of the venting pipe (duct) as short as possible. Although there is no strict rule regarding the duct's length, the shorter it is, the better the fan will function.
DUCTS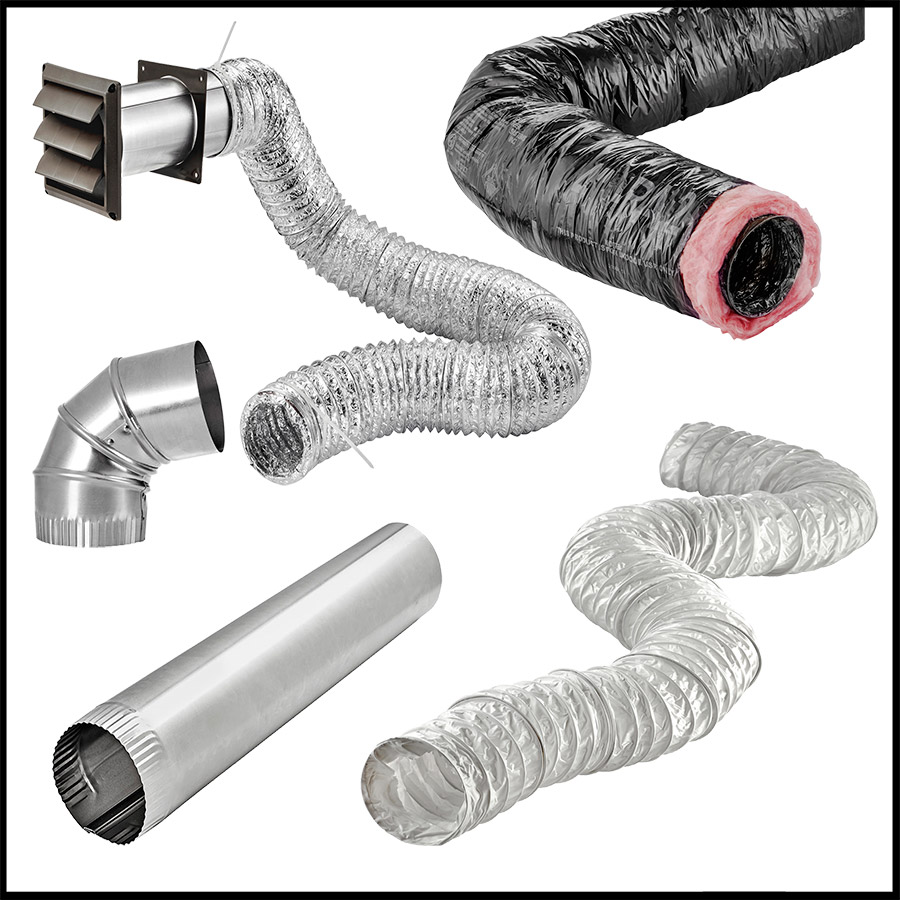 There are several types of ducts that can be used for a bathroom exhaust fan installation, each with its own set of pros and cons. The most common types are rigid ducting, semi-rigid ducting, flexible ducting or a rigid duct and flexible duct combination. Lambro offers a selection of all these types.
Rigid Metal Duct: Rigid metal duct is the most durable option, but it is also the most difficult to install. Professionals consider it the best choice for a bathroom fan in terms of performance, namely venting air and moisture from the bathroom. Rigid metal ducting has smooth inner walls that reduces friction making it the most effective choice for a bathroom fan duct. If a range hood is used as a bathroom fan, code only allows the use of rigid galvanized or stainless steel ducting. Rigid ducts are low maintenance, requiring the occasional cleaning. They have a long lifespan.
There are some drawbacks to consider when using rigid duct for a bathroom fan. It is more expensive and more difficult to install. Consider having it professionally installed. Elbows and joins may be required to move around corners which can cause some additional friction for the air flow. In addition, a ventilation system constructed of rigid ducts tends to be noisier when compared to flexible ducts since noise from inside the
home, as well as outside can be transferred by the rigid duct. To help eliminate the noise issue, many professionals use flexible duct for the last few feet of the system.
Aluminum Semi-Rigid Duct: Semi-rigid can be used in high-humidity areas. It is easier to install than rigid metal duct, but less durable.
Flexible Duct: Flexible duct is perfectly acceptable for a bathroom fan. It is approved by building codes-Chapter 15 of the International Residential Code (IRC). It is available in: PVC, PVC coated aluminum, aluminum and insulated aluminum. Flexible ducting is ideal when rigid ducting cannot be installed due to lack of space or an awkward installation.
However, there are some drawbacks to consider when using flexible duct.
Avoid cheap aluminum ducting because it tears very easily
There is increased friction due to the ridges on the inner walls
Flexible ducting can sag if it is not adequately supported. This can impact air flow and collect the moisture that is supposed to be vented outside. When friction increases causing airflow pressure loss, the efficiency of the duct is reduced
Flexible ducts require more maintenance /cleaning
Insulation and the Bathroom Fan Duct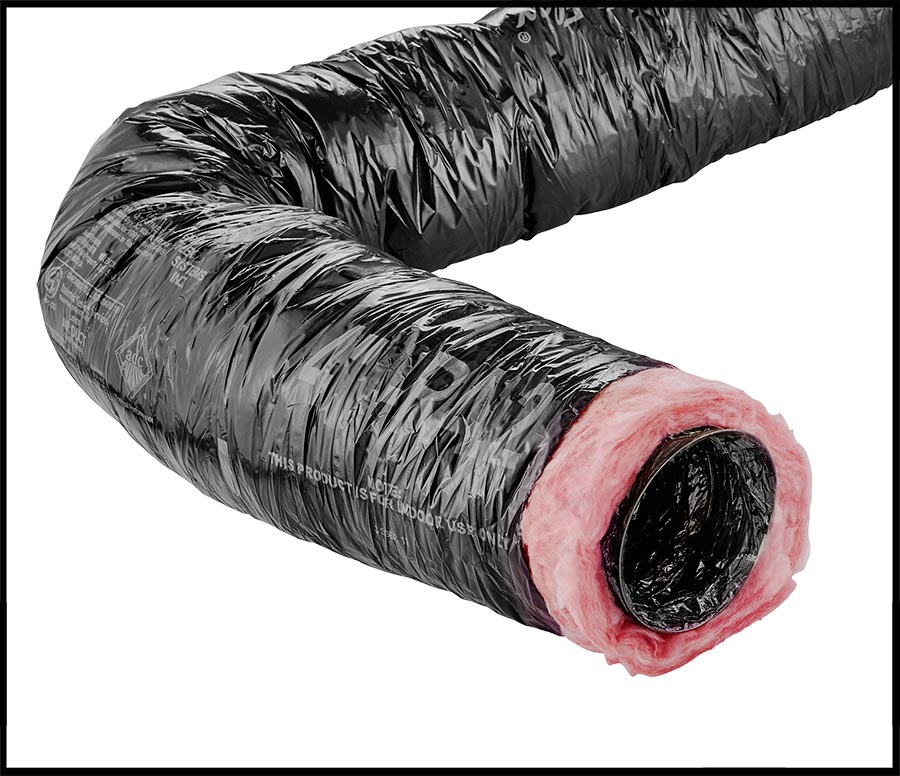 When it comes to bathroom fan ducts, insulation is key. By insulating your fan duct, you can help prevent damage to your home and improve the overall efficiency of your fan. Professionals recommend that a bathroom fan duct be insulted.
An uninsulated duct will:
Prevent the duct from heating up in cold weather causing the vented moist air to condense in the duct rather than being discharged to the outside
Cause dripping from the fan due to the condensation. The dripping over a period of time could result in stains around the fan or the corrosion of the galvanized steel duct
Cause heat loss via the exhaust fan
Take care when installing the insulation around the duct and above the fan, making sure to seal the seams well. Installing insulation in a bathroom fan duct is not a difficult task. However, it is important
to do it correctly in order to achieve the desired results. If you are not confident in your ability to do the job, it is best to hire a professional. When choosing a type of duct for your bathroom exhaust fan installation, consider your needs and preferences carefully to make the best decision for your home. Proper installation and maintenance of bathroom fan ducts is essential to ensuring that they function properly and do not cause any damage to the home/ apartment/commercial building.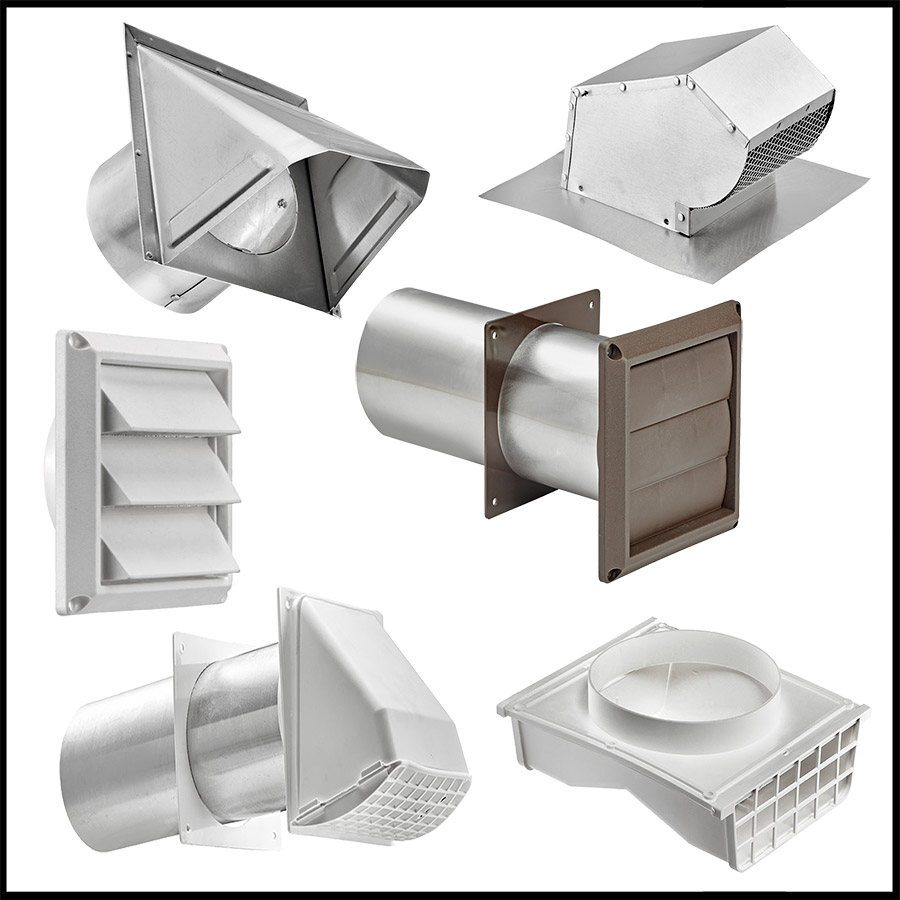 VENTS
Lambro offers a variety of vents made of plastic that come with and without attached duct. These products include: roof caps in both aluminum and black plastic for bathroom fans that are vented through the roof, white and black plastic under eave vents, a variety of plastic louvered vents in brown and white with opening/closing flaps prevents outside elements from entering the vent, along with aluminum and plastic preferred hood vents. Many vent designs have a screen that prevents birds from nesting inside of the opening. All plastic vents have an UV inhibitor used to prevent the premature fading of the vent.
In addition, you will find Lambro vent and duct kits for a:
Transition duct louvered vent
Semi rigid aluminum duct louvered vent
Transition duct preferred hood vent
Lamaflex duct louvered vent
Duct extension connector designed for easy cleaning
Draft blocker which prevents outside air from entering back through vent
Vinyl duct used for only shingle roof installations in the roof
as well as other similar kits.
Facts about Vents and Ducts used in the Installation of a Bathroom Fan
– Bathroom exhaust fans pull moisture-laden air, as well as bathroom odors and vent them outside.
– Bathroom Fans
should be ducted to the outside of the home
should be cleaned regularly to prevent build-up of moisture and mold
should be turned on when the shower is in use to prevent moisture build-up
can be used to circulate fresh air in the room
can be used to reduce condensation on mirrors and windows
can be used to reduce the risk of slips and falls on wet floors
be used in both residential and commercial bathrooms
– The ducts of a bathroom fan should be cleaned regularly to prevent build-up of dust, debris, moisture and mold
– Many building codes require new homes to install bathroom fans to vent air to the outside
– Bathroom ventilation can be accomplished through natural ventilation or mechanical ventilation
– Natural ventilation is the most common type of bathroom ventilation and is typically accomplished by opening a window or door
– The best mechanical way to ventilate the bathroom is by an exhaust fan that vents the moist air to the outside via ducts
– If you don't have a window in your bathroom, chances are good the building codes in your city require a bathroom vent fan
More Facts about Ducts and Vents for a Bathroom Fan
– For optimum venting use insulated 4″ or larger metal ductwork
– Smooth metal duct maximizes vent fan airflow performance
– Insulated flex duct, approved by bath vent fan manufacturers is used for fan venting because of its ease of installation and low cost
– All of the model codes require that the vent fan must exhaust to the building exterior
– Industry experts recommend 60 cfm to 80 cfm for small bathrooms and 200 to 300 cfm for a large bathroom with sources of additional moisture
– The average bathroom vent produces 70 CFM of airflow
– Bathroom ducts / vents should be able to exhaust a minimum of 50 CFM of air
– If a bathroom includes sources of additional moisture such as a steam shower, jetted tub, or steam bath, you will need to increase the total bathroom exhaust venting capacity in CFM
– Fan ducts that are long reduce the ability of the fan to move air.
– Keep the fan duct length as short and straight as possible
– Older bathroom vents frequently have a 3-inch diameter duct hose. Newer and more powerful bathroom fans have 4-inch to 6-inch diameters. Know the duct diameter that you are using
– A bathroom exhaust fan must NOT terminate in an attic
– Professionals recommend an insulated duct when vent through an attic to the outside
– Professionals recommend a bathroom fan roof vent cover to prevent mold issues, leakage and wood degradation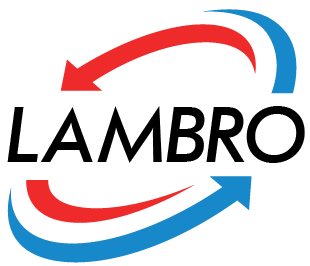 Distributors, wholesalers and retailers:
No matter what type of ductwork and vent you choose for your consumers, Lambro offer a wide variety of bathroom vent and duct products, including exhaust vents, intake vents, transition fittings, wall caps and more.
We're the experts you can trust for all your ventilation needs. Give us a call at (800) 645-2860 or fill out our Contact Us form.